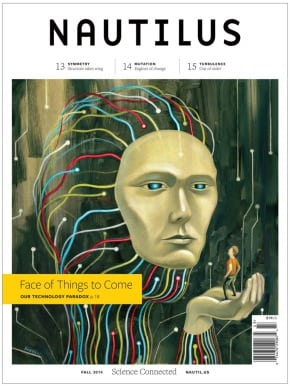 Science magazine Nautilus announced a new publishing partnership with The MIT Press aimed at boosting circulation and marketing for the brand's bimonthly print product.
Beginning with the January 2016 issue, MIT Press will co-publish print issues alongside NautilusThink, the parent organization behind the brand's magazine and website.
"We were looking for an established partner that could expand our subscription, retail and institutional sales and marketing better than we could alone," John Steele, Nautilus founder and publisher, tells Folio:.
Founded in 2013 and with 11 issues published to date, Nautilus expanded from a quarterly print schedule to bimonthly editions last year, slimming from 192 pages per issue to 128, according to Steele. Each edition features in-depth, mutliple-perspective coverage of two themes by renowned experts in the scientific community, curated by editor-in-chief Michael Segal and supplemented with original, full-page color illustrations.
The magazine has made quite a splash since its launch, racking up accolades including two National Magazine Awards (Ellies) in 2015. While the brand claimed 650,000 unique monthly visitors to its website in 2014, however, its print circulation stood at just 6,000.
For Steele, the next step in guiding the fledgling publication to maturity meant finding a co-publisher who not only possessed the resources to bring Nautilus to a larger audience, but had an established record of success in academic publishing.
"We have a lot of ties ot MIT on one level," Steele tells Folio:. "On another, MIT Press publishes over 30 journals. They know how to tell smart magazines. It's a rare skill set in publishing."
The partnership won't mean any changes for the brand's business model, says Steele. A one-year subscription to Nautilus costs $49, according to Steele. Single issues can also be purchased online or in stores at a cover price of $12.
Neither will the magazine's digital operations be much affected by the new partnership; Steele says Nautil.us will continue to explore single monthly topics separate from the print product.
"Nautilus will be the same magazine," Steele concludes. "We think a partnership with MIT Press will be more successful than going it alone."
---
Update: An earlier version of this story included sale prices for Nautilus subscriptions. They have been updated to reflect the regular prices.