Nation's Restaurant News Could Be First of Many Deals for Penton

CEO Sharon Rowlands says publisher to ramp up through acquisition.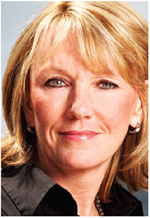 Penton Media's purchase of Lebhar-Friedman flagship Nation's Restaurant News could be the start of several new acquisitions, according to Penton CEO Sharon Rowlands [pictured].
"After our restructuring, we did a strategic review of our portfolio looking at where we'd like to invest to build scale," she told FOLIO. "Restaurants were an area that had a tough couple of years, but we think their prospects will improve going forward. We are fortunate that as we started looking to do deals, this asset came on the market."
Rowlands says Penton is looking for print, event, digital and data assets across a variety of markets and is looking to build up its Asian business, particularly products serving China. "More horizontally, we're investing in areas such as marketing services-we're building that out organically but we also want to make acquisitions to speed up the process," she says.
Nation's Restaurant News, which serves the mass-market restaurant business, joins the Penton Restaurant Group, which also includes Restaurant Hospitality, which covers the more boutique markets, and Food Management, which covers in-service restaurants serving institutions such as hospitals and college. While Rowlands wouldn't reveal combined revenue of the new group, she says it is close to being one of Penton's "top 10 groups."
Some observers have said that NRN, which cut frequency in recent years from 51 to 26, has lost nearly 20,000 subscribers since 2004 as well as 40 percent of its ad base, but Rowlands says she's pleased with the condition of the brand, particularly on the digital side. "In the last six months NRN has seen strong improvement in the core print business while the digital business is growing strongly," she says.
Meet the Author
---