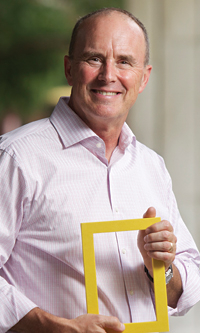 National Geographic is a perennial winner at the National Magazine Awards, picking up 26 through the years, including the two it won in 2011 (one of which was Magazine of the Year, making National Geographic just the second title to earn that honor since it was introduced in 2010).
At a time when many magazines are becoming a secondary channel in the publishing arsenal (at least in internal investment), National Geographic Magazine remains the anchor in a portfolio that boasts a very successful television channel, a booming digital business (including becoming the third-largest media brand on Facebook behind Disney and MTV) and an aggressive apps charge [see sidebar]. And at a time when many magazines are scrambling to make up lost advertising dollars, 80 percent of National Geographic revenue comes from readers.
But even though National Geographic is a not-for profit, that doesn't mean editor Chris Johns and the rest of the NGM staff haven't endured the same aggressive cuts that have struck much of the industry. He's learned to do more with less but at the same time keep the quality and in-depth coverage the magazine has always been known for. Here, Johns shares his thoughts on producing a publication worthy of Magazine of the Year, as well as the new opportunities and new realities of extending a magazine brand beyond the page.
FOLIO: How did you feel going into the National Magazine Awards this year? What are you most proud of?

Chris Johns: I think the two things I was most proud of were the Water Issue [which won the 2011 National Magazine Award for Best Single Topic Issue] and Lynsey Addario's story on Afghan women. I felt in both of those areas we were very competitive. We won in one, didn't in the other, but we were nominated. As far as Magazine of the Year goes, we felt good about how well we've done in the last five or six years, but that's a tough category. I was hopeful but cautiously optimistic.

FOLIO: National Geographic has a wide range of media channels. What is the role of the print magazine today? How do you adapt to that?

Johns: I think it's safe to say that we have a very good relationship with the [television] channel and very good relationships with our extensions in digital media. But really, the thing that is terribly important for us is being the official journal of the National Geographic Society. In many ways, we're the thought-leader for the organization. We take that very seriously and we love being the idea guys. There has been a much closer integration, particularly in the last few months, with our channel. In fact, the channel team sits in on our story proposal meetings and our planning meetings. Two days ago I sat in on one of their meetings and we exchanged ideas. At NGM, we never feel like we have enough good ideas. Believe me, if TV has something cooking that I wasn't aware of, that's terrific.
The other thing that's really important to us is our mission's program. We have hundreds of scientists out there supported by National Geographic who are doing cutting edge science. We try to bring their work to life in the pages of the magazine, or on the Web, or on the iPad or on the channel as well. That's a big advantage we have as an institution—the magazine is nonprofit, our scientific arm is nonprofit, and what income we do earn at the magazine is pumped back into scientific research.

FOLIO: How would the magazine act differently on these "big ideas" than other channels?

Johns: Part of it comes down to us being the official journal of the Society. We have a long history and obsession with accuracy and getting the story right. That's not to say any other part of the organization doesn't want to get it right as well, but we often do a deeper dive into a story than some of the other mediums. We did a big push in the fourth quarter of 2010 on animal migrations worldwide. What the channel did was a beautiful documentary of animals all over the world. We were a little reluctant to do that because we had already covered much of the same ground extensively over the years in the magazine. We felt the migration concept needed more meat on the bones, so we narrowed the focus and put more of an edge on it relative to the human interface with migrating animals and what that means in North America.
FOLIO: Talk about the audience in print. How has it changed in recent years? How has the print audience changed versus readers of your other channels? How do you adapt to that?
Johns: That's a good question. We have a core audience of extraordinarily loyal readers. We have one of the highest renewal rates of any magazine in the world. We have very reliable research that we've compiled over the years about what those readers expect from us. We certainly want to lead them but we also want to serve them. By the same token, we feel absolutely positive that we have to be an energetic, relevant magazine.
For example, in our May issue, the cover is about Yellowstone, but that story also has a very strong iPad presence. We did the story because adventure is an important part of who we are and has been for over 100 years. That story might not appeal as much to our older and more established readers, but we know that kind of story has a lot of appeal for younger readers, particularly as you look to the iPad. Under no circumstances do we want to alienate those loyal readers, but we're constantly looking for new readers. We have a highly energetic, relevant magazine that is true to our core values.
FOLIO: Where are new readers coming from?
Johns: Even though it's a very small piece of our circulation domestically, we see them coming from single copy sales. That's something we watch very closely because that means someone put down $5.99 of hard-earned money and made the decision to buy this magazine. That is an especially important part of gauging relevance. There is an age group that's probably 10 years younger than the subscribers who are buying that newsstand copy. We're very tuned in to what's appealing to them and what isn't. If they can get hooked on that single copy issue, we can track where that subscription came from. We're certain we've got an audience skewed a little younger with the Web.

FOLIO: Talk about the makeup of the current edit team with the magazine. What is the overall size of the staff and how have the roles changed?

Johns: I became editor six and a half years ago, and today I operate with about 35 percent fewer staff editors than when I became editor. But I also have to say that during the economic downturn, we weren't impacted nearly as much as some of our less fortunate colleagues because we are a reader's magazine. Eighty percent of our revenue comes from readers. It was important that we go out and find the best talent in the world. With a shrinking staff, you need a high performing staff.
As far as our structure goes, you couldn't ask a more dynamic question. We are excited in every way for opportunities on the iPad. I remember being a photographer for NGM years ago and thinking, 'I just wish I could have a video of the way this bushman is walking across the dunes,' or the way he made his poison arrow, or a video of the bushmen talking around the fire with lions roaring in the background. The iPad so expands our ability to tell stories in exciting ways that this is a huge opportunity for us. We need to integrate that iPad team from the very beginning of story development. These are dual paths.  As they're doing photography they're also gathering video and audio in the field and having a blast doing it. Our cartographers are making 3-D dynamic maps that can be used both on the Web and the iPad.
There is a good deal of stress on the staff, especially as it gets smaller. We have to be cognizant of helping people deal with this and keep them excited and motivated about where they work. We're constantly looking at structure, and even more important than that is how we can use that structure to unleash creativity.

FOLIO: What are the top qualities you're looking in an editorial staffer?

Johns: People who are highly motivated to excellence—they come in every day saying, how can I make this magazine better? The people we hire are of the highest integrity and trustworthiness.

FOLIO: Any changes with where you're looking for editors and finding them?

Johns: One of the advantages of our publication is we're published in 34 languages including English. We have a group of excellent partners around the world and they're always searching for talent. We've gotten some very good suggestions for people to hire, especially on a freelance basis. The other thing we actively do is spot talent and recruit them. We're always on an active search for talent.  

FOLIO: National Geographic is the third largest media brand on Facebook behind Disney and MTV. How much focus is there on social and multimedia production? How does social media directly benefit the print product?

Johns: One big advantage we have at National Geographic is our 100-year history of being a membership-based organization. It's very much in our DNA to have a strong relationship with members of the Society. We started a very successful part of the website (that we also put in the magazine) called Your Shot that invites people to share photos with us. Photography is a deep part of our DNA and it's an obvious place to start with social media.
In our June issue, we've added community links where you can participate in the discussion. This is important to me as the editor of the magazine because I want to hear what they're interested in, what's pressing their buttons, what's relevant in their lives. We know our readers have a very high aspiration for knowledge. Many are aspiring photographers. Many are aspiring travelers. The more interplay we have with them, the more we can serve those customers. But as an editor, I don't want to just serve them, I want to lead them to exciting places and to exciting content.

FOLIO: Please offer some background on the win for Single Topic Issue for the "Water Issue." How often do you produce a single topic issue? How did you arrive at this topic? What's the key to making a successful single topic issue?

Johns: We do a single topic issue about every other year. We complement those single topic issues with an editorial series. In January, we kicked off our "7 Billion" series about world population. What we do is look out in the world and say, what is a topic that is incredibly important and incredibly relevant to everyone? Water is an absolute natural. We all need clean, fresh water. There are significant issues with water, there is more stress on water as we experience any number of natural events like global climate change and many parts of the topic are controversial.
It's a very personal journey for me. I had been working in Africa for five or six years before coming back to the States, when my oldest daughter was being baptized. I was struck by the beauty of the water on her face. I knew we were doing a single topic issue on water in 1993, and told the person in charge of that issue that we should do something on the spirituality of water and how it has manifested itself in ceremony. It's a photographer's dream to do an essay like this.
Due to a variety of reasons, it didn't happen then. The reason I bring this up is that it was such a thrill for winning Single Topic Issue. It's as truthful as we could make it, but it's also interesting. It's got a high degree of energy and vitality. It also talks of deep emotional connections, one of the things I feel very strongly about with NGM. Yes, we stay true to accuracy and relevance, but we also want to be a magazine that's emotional, too. We want you to pick it up and say, 'Oh my goodness, I had no idea these women in northern Kenya had to walk this far eight hours a day to get water for their kids.' Who's covering that to the degree we did? Nobody.

FOLIO: How did readers respond to the single-topic issue? How did it perform on the newsstand?

Johns: Sell-through on the water issue was by far the best we had in 2010 [that issue, April 2010, generated 190,000 single copy sales, per ABC]. Our reader response was terrific, not just on sell-through but from letters. The commercial response was interesting—advertisers said, 'Wow, this is the right thing to do, we want to be part of this.'
That's one of our strengths at NGM—it's no secret that we all have to live with advertising. But my view as editor is, if we execute those ideas well, advertisers will come. It's not about saying to advertisers, 'What do you need and we'll develop edit for it,' but saying, 'Here's the journey we're taking, do you want to be part of what we represent as a brand across multiple media platforms?'

FOLIO: Without tipping your hand too much, can you give us a preview of upcoming National Geographic issues that will blow the socks off readers?

Johns: I'm really excited about the "7 Billion" series and again, that's a place where we've hit our sweet spot like we did with water. There is also good deal of sponsorship interest. "7 Billion" is a tough subject, there is a lot of controversy when you dive into the topic of population and what it means for civilization and the future of Earth. We also took a look at "girl power" and what that means when women feel good about themselves, when they're educated, how they came to the decisions they made.

FOLIO: How has the editorial budget changed? Where are you spending and why?

Johns: For us to be successful, and the reason so many of us like to come to work here every day, is we have a tremendous amount of support from upper management to give photographers and writers the time and resources in the field, considerably more time than most publications.
To keep that, we've attacked fixed costs. Sad to say, part of fixed costs is staffing. We've gone to a much more flexible staff and more freelancers. That enables us to look at talent all over the world, and be flexible in how we use them. My edit budget has not gone up, despite inflation and challenges in staffing. Obviously, it's gone down. But my variable costs for fieldwork have basically remained the same, especially through the downturn. It sounds like a cliché, but what we try to do is put the money where the reader can see it and hear it.

FOLIO: National Geographic is renowned for its photography, how have you managed the budget there?

Johns: Well, to be accurate about that, we have to calculate a whole series of things, including staffing. This might be more revealing: We do approximately—just feature well stories, not counting departments—70 to 75 stories per year. The average cost of a photography-driven story may vary from $20,000 to $250,000.
It doesn't happen often but it's not unusual for us, just in photography and writing fees to spend $250,000 on a story. The average cost of a story is probably closer to $70,000 for everything.

FOLIO: We've focused on National Geographic's success, but can you share a misstep the magazine made in recent years? What did you learn from that and how did you apply it going forward?

Johns: If you're pushing yourself and pushing your staff, you're going to make mistakes. What you learn from the mistakes and how you recover is big. I do go out of my way to take calculated risks.
Last year, we had the oil spill in the Gulf of Mexico. Everywhere I went, people would say, 'What are you doing on the oil spill? When Katrina struck, in 10 days you did this newsstand special,' and I'd say, 'We're all over it.' Our Katrina coverage was a huge commercial success and we taught ourselves that even though we're a monthly and we have long lead times, when we set our minds to it, we can make a great product. That was one of my proudest moments as editor.
The Gulf was different. It was really difficult to get a handle on. It had a beginning but we really didn't know when it would end. There was so much we didn't know, even though we were working with the best scientists in the world and had great access. I started to tear apart the magazine and said we really need to cover this thing. There was such saturation of media coverage—we knew we had some fresh angles but there was such saturation of the press that we were just exhausted.
We were also in middle of an economic crisis. There is only so much bad news people want to hear. But we're a magazine of record, so we spent between $700,000 and $800,000, we did a special supplement map on how the Gulf works and what it means. We put it on the October cover and it was one of our lowest selling covers in recent history. Our story was so solid, it had such good journalism and the best pictures, but that didn't matter. If the newsstand performance wasn't bad enough, readers rated it the lowest cover of the year.
We put a lot of resources into that story. I think we did the right thing, but there were lessons learned about us chasing a big story like that, especially one we can't react quickly to like we did with Hurricane Katrina.