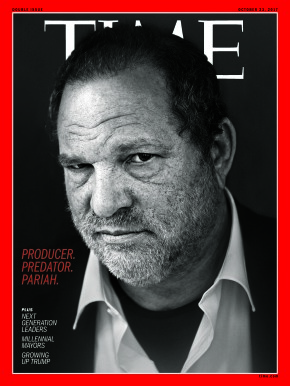 Magazines take on Weinstein
Amid near-universal criticism against late-night TV hosts for being a bit slow on the uptake in covering the unfolding Harvey Weinstein scandal, 2017's other preeminent bastions of social criticism, America's national magazines, have taken up the charge this week.
The New Yorker, whose reporting filled in several of the most disturbing details of Weinstein's long pattern of sexual harassment and abuse first reported by The New York Times, obviously led the pack among America's glossies with a deeply reported October 10th piece by Ronan Farrow, whom Page Six reports is now being "aggressively pursued" by ABC, CBS, and CNN for his reporting acumen.
Time joined in with a dramatic and damning cover design for its October 23 double-issue, slamming Weinstein with the tagline, "Producer, predator, pariah," accompanied by a column from the magazine's film critic, Stephanie Zacharek, asking, "How do you solve a problem like Harvey Weinstein?"
The magazine also added a longer piece online by lawyer Jill Filipovic examining Hollywood's long history of promoting a culture of silence and capitulation and noting that even the men who do not perpetrate the abuse have often been complicit in fostering its continued existence.
Kim Masters, editor-at-large for The Hollywood Reporter, told The New York Times' Jim Rutenberg that she had been chasing the Weinstein thread for years, but that a lack of cooperation from sources, mostly due to fear, prevented any stories from going to press. A similar experience was reported by a spokeswoman for New York magazine, who told Page Six of a withheld 2016 report, "The fact is that we couldn't get the story to the point where we had sufficient confirmation and sourcing to publish."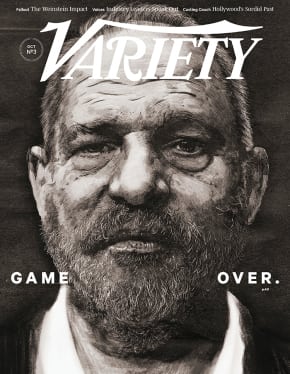 Among magazines that frequently found themselves in Weinstein's orbit over the years, Vanity Fair, People, Entertainment Weekly, Us Weekly, and Variety have each published dozens of online stories on the fallout from the scandal, although Vanity Fair's November 2017 issue went to press too soon to weigh in.
Variety took a similar tactic to Time, with a cover illustration of a gruff-looking Weinstein featuring the tagline, "Game Over" and an accompanying cover story by Brent Lang and Elizabeth Wagmeister.
The Week was also quick on the uptake, covering its October 20th edition with an illustration of Weinstein, Donald Trump, and Bill O'Reilly, featuring the tagline, "See no evil: Why powerful men get away with sexual abuse."
Condé Nast artistic director Anna Wintour, whose relationship with Weinstein goes back at least a decade, issued a statement condemning the producer. "Behavior like this is appalling and unacceptable," said Wintour. "I feel horrible about what these women have experienced and admire their bravery in coming forward. My heart goes out to them, as well as to [Weinstein's wife] Georgina and the children. We all have a role to play in creating safe environments where everyone can be free to work without fear."
Perhaps the most ill-conceived reaction to date has been from Jewish magazine Tablet, who's own editor-at-large, Mark Oppenheimer, decided to write at length about the "specifically Jewy" nature of Weinstein's crimes. The predictable public backlash to the column elicited a public apology from Oppenheimer a day later.
The column did have at least one fan on Twitter: noted Nazi enthusiast Richard Spencer.
---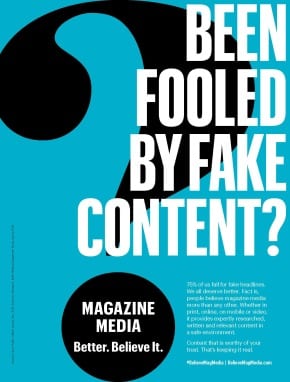 On the Record with Meredith CEO Steve Lacy
Folio: sister title min caught up this week with Meredith Corp. CEO Stephen Lacy, whose company is significant stakeholder to the MPA – The Association of Magazine Media, to discuss the association's latest marketing campaign promoting the merits of print media to both readers and brand marketers alike.
"As president of the MPA board, I have been part of the discussions about this campaign since the beginning. I think it is brilliant," Lacy told min. "Magazine media content is thoroughly researched, fact-checked, curated and produced, unlike much of what is available to consumers today."
Lacy tells min the new campaign, titled, "Magazine Media. Better. Believe It," is all about credibility and promoting the idea that what's read in magazines is more thoroughly vetted and curated than what's often found elsewhere — presumably, online.
"As advertisers look for partnerships, it is essential for them to advertise in media sources that match their own company's values," said Lacy. "Marketers know that context matters. And our Meredith Sales Guarantee, which we have shared with our industry, has proven more than 70 times that magazine-media advertising drives positive ROI for advertisers."
---
Josh Duggar loses legal challenge against Bauer Publishing
A federal judge has dismissed a lawsuit brought against Bauer Publishing by disgraced former reality TV star Josh Duggar, asserting that Bauer's In Touch Weekly did not violate Duggar's right to privacy when it published a May 2015 story describing Duggar's history of sexually assaulting underage girls with information received through a Freedom of Information Act request.
Judge Tim Brooks, of Arkansas' Western District, cited in his decision to dismiss the "19 Kids and Counting" star's claims prior Supreme Court rulings that the First Amendment gives newspapers and other media outlets the right to publish "lawfully obtained truthful information about a matter of public significance."
---
From the job board…
The Independent Insurance Agents & Brokers of America, Inc. seeks a full-time, Alexandria, Virginia-based assistant editor for its flagship IA Magazine and affiliated website, newsletters, and other digital properties. The position offers an annual salary of $50,000 to $55,000 and requires two to three years of experience, strong reporting and editing skills, command of AP Style, and knowledge of Google Analytics.
See this and other new job openings at careers.foliomag.com.