National Magazines Enter Local Content Market with Tech Platform

Access Network partners with Vibe, Maxim to hone local content offerings.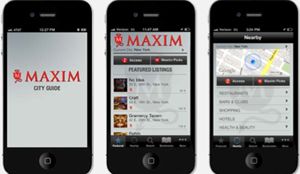 "There's a finite pool of marketing and advertising dollars out there. The local content market is certainly an opportunity for publishers, but it's also expensive," says Access Network and new Vibe Media CEO Ari Horowitz. "The [group buying] phenomenon, paying for a deal and giving a discount to the consumer, is a marketing expense."
SaaS provider Access Network [AN] recently closed a deal with Vibe Holdings, merging Vibe and Uptown properties with AN's BlackBook Media company. Under this new partnership, Vibe's Lifestyle Network and BlackBook Media Network reach a collective audience of 18.5 million monthly visitors.
Beyond the additional eyeballs, Access Network's proprietary technology was also a draw for Vibe. Vibe Holdings chairman Magic Johnson said of the deal, "The technology acquired as part of the Access Network will serve as a very important piece to enable us to reach consumers."
The technology in question is AN's local content distribution platform. The SaaS includes a database with 10 million local company listings, accompanied by 200 million plus data points about the companies. Horowitz breaks down the Access Network model, "We give our partners three components: we enable them to manage data of which we provide for them; configure the data through our CMS and distribute the data."
AN manages the database, structuring the information and keeping listings current. The company also provides the CMS in which publishing partners (like Maxim, Vibe and Uptown) filter through the data to develop products relevant to their audiences.
"We give them distribution channels: an iPhone app template, an Android app template and a web-based app template; clients can send content to Facebook, can configure and print out data into actual guide books," says Horowitz. "They can use the content in magazines; it's not just about mobile."
Monetization opportunities for publishers include advertising and sponsorship options once a product is available to users. For a monthly fee of $5,000, partners can put a single brand on the AN platform; for $10,000, up to five brands can utilize the technology. Customization incurs a separate fee.
Meet the Author
---