National Journal Undergoing Business and Editorial 'Transformation'

President Justin Smith talks about the group's hiring tear and its future.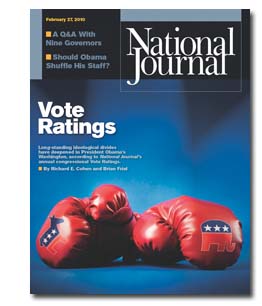 Atlantic Media's National Journal Group has garnered headlines from media outlets across the country in recent weeks because of the big names it has been hiring. The most recent among them was the appointment of Newsweek senior editor and national economic correspondent Michael Hirsh as chief correspondent, covering economic policy, foreign policy and politics.
Not long before that, the Washington D.C.-based weekly scored a major coup when it landed widely-recognized Fox News chief White House correspondent Major Garrett as a congressional correspondent. Other hires at the group—which also publishes CongressDaily and the Hotline—include former Time correspondent Matt Cooper as managing editor, political analyst Matthew Dowd, The Atlantic's Marc Ambinder, USA Today's Aamer Madhani, the Wall Street Journal's Yochi Dreazen, Sue Davis, and Fawn Johnson, Politico's Josh Kraushaar, Coral Davenport, and Tim Alberta, and more.
The National Journal's slew of recent hires goes beyond simple staffing up. Here, we speak with Atlantic Media president Justin Smith to find out what the strategy behind all the hires is, what the National Journal Group is aiming to accomplish and what role it plays in the overall Atlantic Media portfolio.
FOLIO: The most recent hire of Michael Hirsh from Newsweek is a significant win for the National Journal. Why did you target Hirsh? In your words, what does he bring to the National Journal team?
Smith: In his books, columns, and reporting, Michael Hirsh has demonstrated a unique understanding of the intersection of economic policy, international affairs, and politics. He combines a panoramic view with incisive, high-impact writing, and delivers journalism that helps "see around corners"—the exact type of forward-looking intelligence we hope to provide to our audiences.
FOLIO: Hirsh's hire closely follows the appointment of former Fox News correspondent Major Garrett a congressional corresponden—tanother big get. Why hire Garrett?
Smith: Major Garrett is one of the hardest-working and most well-respected journalists in Washington.  The depth and breadth of his knowledge about covering Washington is impressive, and he'll be able to do the kind of reporting and analysis on Congress, the White House, and politics that only someone with his range of experiences could. He's also proven that his skills span the full spectrum of platforms, including television, online, and print, which perfectly suits our mission of bringing National Journal's reporting to our subscribers and free audiences across multiple channels.
FOLIO: The National Journal has made a slew of recent hires. What exactly is your strategy with this hiring surge?
Smith: We have been on a nationwide talent search all summer that is part of an ongoing business and editorial transformation of the National Journal. We have long been considered the premium source in Washington for intelligent, insightful, and credible reporting and analysis. In this next chapter, we're focused on infusing our existing analytic strength with currency, relevance and speed.  Every hire this summer—from the high-profile names to the young up-and-comers—has been made with the goal of a building a team that will be smart, deep, and fast. We've been thrilled at the response to the search—we feel very fortunate to have discovered a great group of talented journalists who found our vision of a high-quality, high-impact newsroom to be an exciting one.
FOLIO: Will the staffing tear continue? If so, in which areas?
Smith: We still have some newsroom announcements to come. It has been exciting to watch the inflow of talent to the company.
FOLIO: If there was one editorial staffer you could hire today that the National Journal doesn't already employ, who would it be and why?
Smith: We honestly couldn't ask for a better assemblage of talent. Ron Fournier, our editor-in-chief, and Ron Brownstein, our editorial director, have found and recruited the smartest group of journalists we could have possibly imagined. So I don't find myself spending a lot of time thinking about missing pieces. Though, of course every quality news organization could use a couple of Jim Fallows!
FOLIO: What are the National Journal's plans for distributing on e-readers and other mobile devices, and how do these hires, if at all, impact those?
Smith: National Journal's objective is to become a digital-first media organization. The re-launch of NationalJournal.com in October will position us for news distribution across a full variety of platforms. The reporters, editors, and analysts that we have hired will be contributing on all of those platforms, and their mission will be to produce content that serves the needs of an audience that is always on, always connected, always looking for the next bit of intelligence.
As part of this process, we're committed to publishing a range of desktop and mobile products that deliver our journalism in many forms and frequencies—in the moment-to-moment daily fray, on a daily appointment basis, or on a more reflective weekly timeframe.
FOLIO: Refresh my memory. What products fall under the National Journal Group umbrella?
Smith: Under the new unified National Journal newsroom—which includes National Journal magazine (weekly), CongressDaily (daily), and the Hotline (multiple times daily)—we'll be producing a steady stream of both breaking news and daily analysis. NationalJournal.com will be updated with up-to-the-minute news, including a free site alongside an enriched subscriber site that will allow for deep-dives on critical issue areas and finely customizable news and mobile delivery options. National Journal's circulation has been growing consistently and we expect to have our total circulation over 15,000 by the time of launch.
FOLIO: Are any changes coming/have any happened recently on the business side of the operation?
Smith: We have overhauled much of the business side as well, from sales to circulation to marketing. Our desire to have the best talent wasn't restricted to the editorial staff at all. Succeeding in media in 2010 requires flawless business-side execution.  You can't aspire to that goal without great people.  And that's what we've done across the board.
[Smith declined to answer questions concerning advertising revenue performance for the group.]
FOLIO: How, if at all, does publishing the National Journal next to The Atlantic shape each magazine's editorial vision?
Smith: You know, it was Matt Cooper who credited Atlantic Media's owner David Bradley with turning our shared offices at the Watergate "into a citadel of journalistic integrity and reinvention." It's a huge compliment and one that we'd like to think is true, even partially. I am fortunate to work closely with both brands, and there is no question that they share similar values, both in the quality of their work and in the quality of their people. Each organization's editorial vision is distinct and independent.  But ideas and passion are contagious, and this building is brimming with both.
FOLIO: What's next for the National Journal for the rest of 2010 into 2011?
Smith: When NationalJournal.com relaunches in October, we will be transforming National Journal into a digital-first media organization and enhancing our strength in analysis with a new level of urgency, speed, and utility. We will have assembled a remarkably talented newsroom. And we'll be diving head-first into the 2010 election cycle, a potentially substantial lame-duck Congressional session, and then an entirely new Congress at the start of 2011.  There will certainly be no shortage of stories to cover—and no small need within our audience to cut through the clutter to know and understand how all these critical issues will play out.
Meet the Author
---