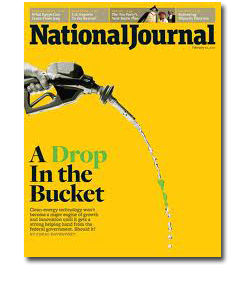 In a letter to readers earlier this month, Atlantic Media owner and chairman David Bradley outlined an upcoming membership service for the National Journal Group that will supplant its existing subscription model. Membership with the Group will be at an annual fixed price and include access to all of its products as well as some new services.
Bradley's memo, as initially reported by Politico–a competitor of National Journal–and announced today by Atlantic Media, wanders through a review of his career highlights–mostly to set up the premise of National Journal's new membership model. Bradley's first company was a market research firm, he explains, and here he learned a valuable lesson: "Our work for clients-our work for banks in particular-taught us an insight wholly unexpected: the force of membership."
Fast forward to the present and Bradley notes that the National Journal Group is now beset by a number of competing brands. "Is there any major media company or sudden start-up not practicing Washington journalism?"
Now, after a "multimillion dollar investment," and as a way to differentiate itself from those competitors, the National Journal Group is moving to a membership service inspired by Bradley's first company. "I would like to convert our purpose from cross-selling new publications to the membership ethic of unlimited service to our readers," he says in the letter.
The move is not one made out of urgency-Bradley notes the National Journal is producing its second highest income in 40 years–but rather one that attempts to make the brand more than just a news and analysis content engine. National Journal has a paid circ of about 15,000.
Supporting the model are some very generous membership "ethics" that Bradley outlines in the memo. Aside from referring to subscribers as members, The National Journal Group will allow one membership to extend to an organization's entire employee base and each member has access to every product.
Also, there is a name-your-price loophole for members that think the fee is too high, and organizations can simply stop paying their membership fee when budgets are tight. "We are pleased to continue organizations as members without any charge for as long as their budgets require," says Bradley.
With the new membership structure come new services, including new bite-sized briefing products, annual research reports and member summits.
The model does away with the costs behind individual product marketing and audience development as well as cross-selling efforts, greatly simplifying access, but the squishy fee structure, conversion success and positioning to advertisers are big questions.
When contacted, Justin Smith, Atlantic Media's president, declined to offer specifics on the membership fees, noting that the group is still in discussions with subscribers on the new pricing structure.
Smith says the new model has been under consideration since earlier this year. "We've spent the last several months surveying our customers and identifying their unmet needs. We decided earlier this year that we could better serve them through a membership program that would provide them access to all of our journalism plus an enriched suite of information, briefings, and best-practices research compiled by a new, independent research staff-and other tools designed to meet the specific needs of public policy professionals."
As for conversion rates, Smith would only say that the response has been "very positive," and declined to say if current subscribers automatically converted to the new membership model. "We will be talking this through with our subscribers over the next few months. We want those conversations to take place first before discussing the details publicly."