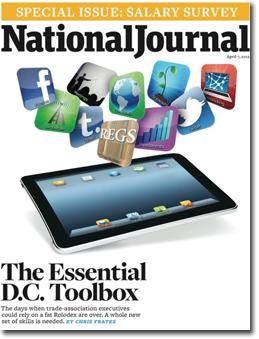 In August, Atlantic Media's National Journal Group outlined a new membership service to its existing subscribers, hoping to gain loyalty in the ever-competitive realm of Washingtonian journalism. After months of personal outreach to potential partners, National Journal says it has roughly 600 paid members on board with the enterprise service, which was designed to replace struggling individual subscriptions.
"What we found was that our journalism is not best served by slicing it up, as some people had access to some things and not others. All of our news now is interlocking: We have the weekly magazine; we have the daily congressional publication, we have the website; the Hotline (which is an online-only subscription for political coverage)," says Taylor West, communications director with National Journal. "We want National Journal members to feel this is an organization at their service, with the information they need and in the form that they need it."
While West declined to share membership fees, she says pricing is decided through a sliding scale based on number of employees.
In order to create a comprehensive content offering, the membership also includes The Executive Insight Briefing, a weekly news round up available on National Journal's website for download. The briefing is customizable through content addition or subtraction, as well as logo integration options. There is a presentation center housing charts, infographics and stats accessible for members as well.
Member services extend to live events, with the National Journal Group holding monthly Charter Membership meetings at The Watergate in Washington, D.C. Poppy MacDonald, vice president of membership with the Atlantic Media Company, talks about the advantages of these face-to-face meetings, "Members appreciate the insight they're getting from our journalism, but they also want to hear from each other."
MacDonald details this week's Charter meeting, which will focus on the Affordable Care Act, "117 people have RSVPed for the event. We're only going to spend 12 minutes going through a PowerPoint presentation for them to use to educate their constituency, to outline possible outcomes and what it all means. We'll then let the heads of the participating offices talk about what they're planning on, and how they are equipping their organization for these changes."
A Personal Approach
The Charter meetings are only one touch point for National Journal Group members (for those who can't make it to Watergate, the meetings are also streamed online).
The sales process is designed with the same "white glove" feel. Potential members are mailed a letter from Atlantic Media chairman and owner David Bradley, detailing the benefits of the service and why it's a good fit for the courted company. MacDonald's team follows up with a phone call, and in-person sales meetings are arranged if interest is expressed.
According to West, Bradley is largely focused on the "ethic service" portion of membership, which allows organizations to pay one flat fee for company access. The membership model was refined through The Advisory Board Company and The Corporate Executive Board, two companies Bradley successfully founded.
Atlantic Media claims to have half of Fortune's 100 companies on as members, and is now going after the second half. The National Journal team is relying on positive feedback from existing members to prove the service's worth to new clients. "I think there will be a lot of emphasis on the idea that we are a partner in your ability to succeed in Washington. Frankly, this service helps you look good to the people that you work for," West tells FOLIO:.
Though still early days, the National Journal Group is seeing a 15 percent revenue spike in year-over-year comparison. "Compared to the old subscription model, which faced the prospect of declining revenue, it's a great turnaround that tells us we're on the right path," says West.