National Journal Magazine Has a New Look

Magazine redesign is the next step in a reimagined brand.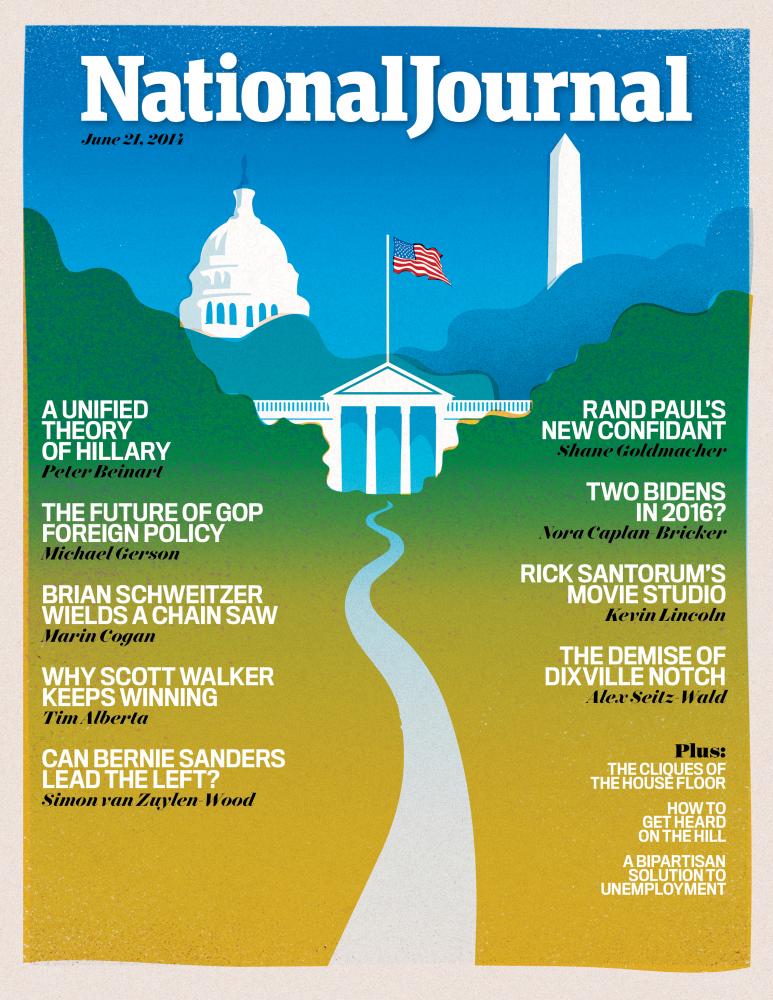 Change has been in the air at Atlantic Media's National Journal group over the past several months. And, now, the magazine has debuted a totally redesigned concept to coincide with its new direction.
Last October, National Journal began reimagining the 45-year-old brand and launched a new website. Since the launch, traffic and mobile usage have increased by 57 percent and 20 percent, respectively. What's more, revenue has grown by 118 percent in 2014 compared with 2013.
Now, the magazine is the next phase in continuing the momentum of growth and change. Editor Richard Just, who joined in March, along with designer Joe Heroun, led the redesign. The reboot aims to integrate original art and illustrations, photography and long-form journalism into each issue in order to craft profiles and stories on politics Washington D.C. thought leaders.
Just, who's also been busy rebuilding a deeper magazine staff, says this about the redesign in his editor's note:
National Journal magazine has a storied history, and if you live and breathe policy and politics, then you know why. Scrupulously nonpartisan, intellectually honest, genuinely serious about government and about ideas, National Journal has always been a publication that everyone in D.C. could trust.

Those are the essential values that we wanted to take forward into the newNational Journal. But we also knew that a lot about the magazine had to change. So many of the things that National Journal's print magazine was long known for are now being done on our highly successful website–in greater volume and with greater speed than the magazine ever could have managed. Yet we didn't, and don't, think the Internet has made print obsolete. It has simply challenged magazine editors to ask themselves: What is print still for?

We've come up with a few answers to that question. A print magazine, we believe, is for narrative writing that is beautifully crafted and deeply reported. It's for journalism that takes big ideas seriously. It's for long pieces that feel short because they're truly fun to read. It's for telling stories that are complicated and nuanced–as almost all stories worth knowing are. It's for describing the characters, famous or unknown, who shape American democracy–and for understanding their agendas, their motivations, their flaws, their strengths. It's for publishing established, brilliant writers, and also for discovering the next generation of storytelling stars.

Finally, we believe that essential to the experience of reading a great print magazine is a beautiful design–elegant fonts, striking illustrations, excellent photography. Joseph Heroun brilliantly reconceived the magazine's overall look and created the stunning designs that fill the pages of our first issue. At the same time, we also wanted to reimagine how we present our magazine pieces online. Jenny Mazer did a fantastic job of devising an eye-catching new digital format for these pieces.

There are plenty of magazines that use the approach to journalism we are now emphasizing–that focus on long-form writing and great storytelling and outstanding art. But there are no magazines that use this approach to relentlessly focus on the world of policy and politics–and that are broadly trusted across the political spectrum. That is the kind of publication we aim to produce.
Meet the Author
---