Big changes are coming to Atlantic Media.
As part of a reorganization of the company's Washington, D.C. operations, National Journal will fully transition to a premium paid content model, reducing its full-time employee count by around 25 percent and offering its content and services exclusively to member organizations behind a paywall.
The moves are part of a rationalization of missions between The National Journal and The Atlantic, with the latter picking up the former's broader political coverage.
About 20 National Journal staff members will move to The Atlantic, which will expand its editorial staff and open a new bureau in Washington.
Headed by politics editor Yoni Applebaum, the new bureau plans to dedicate reporters to various Washington beats such as the White House, Capitol Hill, government agencies and the lobbying scene. As bureau chief, Applebaum will report to TheAtlantic.com editor J.J. Gould.
"We're very keen to expand The Atlantic's digital coverage more aggressively into Washington politics and policy, and that will be picking up some of what National Journal has historically been doing," says president and COO Bob Cohn.
The repositioning is a return, of sorts, to National Journal's roots as a subscriber-based source of news, analysis, briefings and other customized material for D.C. insiders after recent attempts at broadening its mainstream audience.
In July, Atlantic Media announced that National Journal's 46 year-old print magazine would cease publication by the end of the year.
"The idea is to hone National Journal's focus on what our members and subscribers need to do their jobs more effectively," says National Journal publisher Poppy MacDonald. "It's been the result of opening up a dialogue with our members."
Stephen G. Smith will rejoin National Journal as editor-in-chief, where he previously worked from 1996 to 1998 before departing for U.S. News & World Report and The Washington Examiner, among others. Ben Pershing was promoted to managing editor.
"When we launched in 1969, we were a publication that produced news and information targeted towards policy makers and influentials," MacDonald continues. "In 2011, we launched membership, and that was taking our really important news and analysis and adding time-saving tools and research that really helped make Washington professionals more effective."
Additional changes at National Journal include the debut of Axis, a growing library of relevant data and graphics offered exclusively to members. Currently free-to-access editorial products National Journal Daily and Hotline will be redesigned and moved behind the membership paywall.
"It's about us putting 100 percent of our editorial focus on the type of analysis and news that our members need, people who are Washington policy makers and are already approaching the issue with a pretty strong understanding, as opposed to writing for the general public," MacDonald says. "I think that's really a better focus for The Atlantic."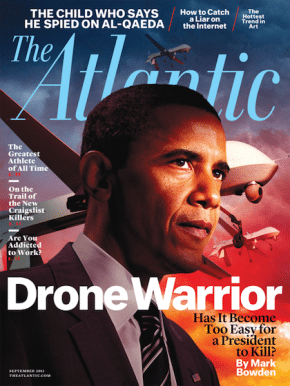 The transition is less a cost-saving measure than it is a logical solution to a perceived overlap between the two brands, Cohn tells Folio:.
"It's really trying to rationalize a corporate structure," Cohn says. "From a corporate perspective, it's asking, 'What's the clearest mission for each of these publications?' Being a small company, we want to differentiate them as much as we reasonably can—in coverage, audience and advertiser audience."
While The Atlantic has always dedicated some of its content to politics—the magazine's original 1857 mission statement mentions striving to be "the exponent of the American idea"—the expansion of Washington-based coverage is at least partially a response to audience demand.
"Politics has become consistently one of our most popular sections on the site," Cohn continues. "We know that our audience cares deeply about politics and policy and, in general, we want to be more of a global brand. You really can't have global ambitions if you don't have strong coverage of Washington."
The Atlantic will also take over events division National Journal Live, combining it with its existing Atlantic Live division. More policy-based events aimed at a Washington, D.C. market can be expected to join Atlantic Live's portfolio of global conferences and summits.
National Journal will continue to offer its members about eight to twelve events per month, including leadership summits, roundtables, webinars and "Membership@Lunch" meetings, says MacDonald.
Despite the newly-created bureau signifying The Atlantic's most ambitious editorial development project to date, expansion plans aren't limited to Washington.
"We will be adding editorial resources within our existing sections and launching new ones next year," adds Cohn. "We're really excited to expand in Washington, but that's part of our overall ambitions and not necessarily to dramatically change ourselves to be known as a Capitol Hill site."