National Geographic

Ozzie Winner: Best Site Design, Consumer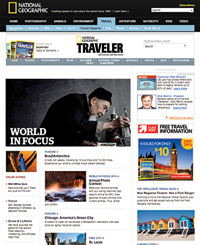 National Geographic Traveler's exquisite Web site attracts travel enthusiasts who are eager to explore (virtually, at first) the world beyond their screens. The site, featuring lush photo essays, intuitive functionality and invitingly interactive content packages, won the Ozzie for best site design. The site executes extremely well the mission it shares with its ink-on-paper counterpart: Transporting readers abroad from the comfort of their homes.
What make the recognition even more impressive is that NG Traveler's Web page is done with only a handful of people manning the site–three designers, three photography editors and an overall editor. Naturally, the recognition was appreciated. "We were up against some very impressive editors. It was very exciting to find out about the win," says art director Jerry Sealy.
It was important for the creators not to stray too far from the familiar excellence of the main National Geographic. The team designed the site with the larger magazine audience in mind, though they did expand the concept to bring, as Sealy says, "our own identity that we tailored for our needs. We didn't want to have something that was too out of the ordinary, that wouldn't fit in with the family."
A key to the success of the site, Sealy says, is the clean lines, elegance and rich content that gives modern day explorers a peak into the world beyond their laptops. "At Traveler we try to highlight insiders, and bring a local take on the destination both in the design and on the editorial side. We're never fussy or fake," Sealy says.
According to Sealy, photo-galleries have been most popular with users. With images of interesting societies, exotic lands and captivating landscapes, a visitor to the site does not have to go far to get away. "The user can find his or her way through the material and not get bogged with all sorts of decorations, Sealy says. "It's clean and direct with good navigation."
The team focuses on a contemporary, modern design, paired with the familiar vibe that longtime users expect. "What we're known for, along with great storytelling, is world-class photography," Sealy says. "That's really highlighted."
Meet the Author
---