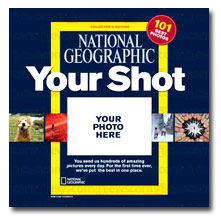 After collecting more than 150,000 photos from readers since it launched its Your Shot project in June 2006, National Geographic said it will publish a special edition Your Shot issue, featuring more than 100 of those images, selected by the magazine's editors. It's the magazine's first special edition made up entirely of reader-submitted photos.
Taking the concept a step further, National Geographic partnered with e-commerce solutions provider Consolidated Graphics to allow readers to upload a high-resolution photo online and have it printed on the cover of their own edition. To accomplish this, Consolidated Graphics plans to print the covers using HP's Indigo digital presses—the same presses HP uses for its print-on-demand service, MagCloud.
HP's Indigo presses "are electrophotographic presses, so they use the same core principle as a digital copier but with much higher quality," a spokesperson told FOLIO:. "Because there are no plates, it is economical to print one copy for each person who uploads an image."
HP differentiates its Idigo presses from other digital printing services because it uses a liquid ink instead of a dry toner. "HP ElectroInk for the Indigo has pigment particles that are only one micron in size as opposed to five microns or larger with dry toners," the spokesperson said. "That means it goes down on the page in a thinner layer, so it looks more like offset press output and less like it comes from a color copier."
The remaining parts of the issue, as well as a newsstand version that does not have a customized cover, will be printed using National Geographic's usual gravure and web offset service. The customized issue costs $10.99.