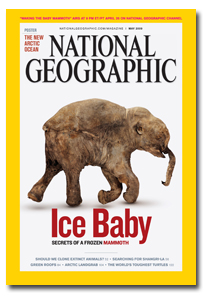 Four months after forming a management team tasked with developing integrated advertising sponsorship programs company-wide, the National Geographic Society has restructured its sales operations across its four magazines, consolidating them under one brand umbrella.
National Geographic associate publisher Bob Amberg and National Geographic Traveler associate publisher Kimberly Connaghan have been named brand directors, the company said. Amberg will oversee sales for the National Geographic and Kids brands while Connaghan will head sales for the Adventure and Traveler brands. Claudia Malley, who in January took on the added responsibility of developing integrated programs for companies outside the travel category, will keep her title as publisher of the U.S. edition of National Geographic.
As part of the restructuring, 10 sales and marketing division positions were eliminated in an effort to "evolve our business to adapt to changing marketplace," magazines vice president and group publisher Stephen Giannetti told FOLIO:.  Remaining sales representatives will be referred to as "brand managers."
"This restructuring organizes our sales approach by client, not by our products," Malley said. "Each brand manager will be able to go out with a brand-first approach and, essentially, spend more time working with their client to determine how to help them achieve their goals."
The company will maintain its dedicated online sales staff, Giannetti said.
Serving Clients 'Under the Yellow Border'
The National Geographic Society believes the formation of the Global Media Integrated Sales and Sponsorship group has enabled the non-profit to better "harness its assets" and serve its clients by leveraging its overall brand. "How do we go to market to an advertiser whose business is evolving," said Giannetti.  "By going with the National Geographic brand first, we're offering our clients the best solutions, all under the yellow border. Now, we're empowering our salespeople to do the same thing."
Since January, the company said it has finalized integrated deals with clients including Shell, Lipton, Sun Chips and the country of India.
"When economic market changes, you have to have your arms open to accept those dollars," Giannetti said. "This restructuring will enable us to do that."