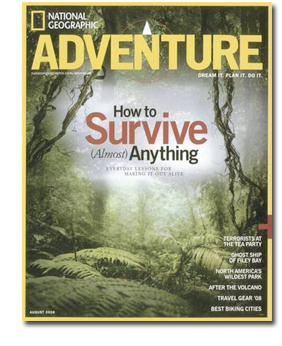 The National Geographic Society is quietly shopping its Adventure spinoff magazine, sources have told FOLIO:. The adventure travel and lifestyle title could be a hard sell, however, in the face of a tough deal market and its attachment to such an iconic parent brand.
 
When asked about the sale process, which is said to have begun last month, a National Geographic spokesperson declined to comment.
 
One group that has been approached by National Geographic about buying Adventure is Bonnier Corp., sources said. A Bonnier spokesperson declined to confirm whether the company was in fact contacted about Adventure but indicated that it has been a popular target of publishers looking to offload their magazines. "Because we have been so bullish on acquisitions in the past year, we are always being sought after by companies looking to see if we have interest in their magazines," the spokesperson said, adding that "we're not interested in acquiring this property."
 
Of the National Geographic group of magazines, the 625,000-circ. Adventure has seen its ad pages decline the most, down 44 percent through the third quarter 2009, per PIB numbers. The flagship National Geographic is down 21 percent in pages and Traveler is down 40 percent. Kids has held steady, growing roughly 1 percent.
 
A Hard Sell
 
Even if National Geographic is shopping Adventure at a fire sale price—the cost of subscription and severance liabilities, for example—the title still will be a hard sell, one media investment banker told FOLIO:. "The challenge of selling it will be the National Geographic name," the source said. "National Geographic wouldn't let the buyer use their name, and that's a big part of the value. The new owner wouldn't have that stamp of approval."
 
Adventure features the National Geographic logo above the masthead and shares the brand's iconic yellow border around the cover.
 
Earlier this year, four months after forming a management team tasked with developing integrated advertising sponsorship programs company-wide, the National Geographic Society has restructured its sales operations across its four magazines, consolidating them under one brand umbrella. Under the new structure, National Geographic Traveler associate publisher Kimberly Connaghan was named brand director, overseeing sales for the Adventure and Traveler brands. National Geographic associate publisher Bob Amberg was tapped to oversee the National Geographic and Kids brands.