NatGeo Measures its Carbon Footprint

One issue equivalent of two miles driven in 20-mpg car.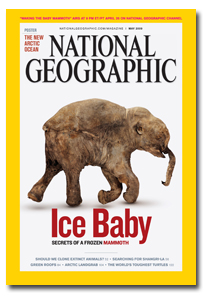 National Geographic, along with Verso Paper, Quad/Graphics and Harmony Environmental, recently completed a "cradle-to-grave" study to measure the magazine's carbon footprint.
The study caps a process initiated two years ago when National Geographic approached Verso to explore the idea. A year's worth of planning between 2007 and 2008 was retooled to initiate a new test specifically for the plant that makes the paper for the magazine.
"We were reluctant to wait for a new study to be completed," said Hans Wegner, VP of production services at National Geographic, in a statement. "However, we were convinced there were enough significant differences mill-to-mill and grade-to-grade to warrant the undertaking of a separate study of our paper made at Verso's Androscoggin, Maine mill in order to obtain accurate information."
Not content to simply measure the emissions from the paper mill, National Geograhic and Verso brought in the magazine's printer, Quad/Graphics, to participate as well, giving the study a broader and more detailed look at the entire production process.
The study measured the planting and harvesting of trees, paper manufacturing and printing, and the magazine's delivery and disposal.
Harmony Environmental independently compiled and analyzed the data, which revealed that 1.27 pounds of CO2 equivalents are emitted to produce the paper for one issue of National Geographic. Add in printing, distribution and the rest of the steps necessary to bring an issue to market and the total bumps up to 1.82 pounds. That, according to Verso, is the same amount of CO2 emitted by driving about two miles in a 20-mpg car.
With a total paid and verified circ of just over 5,000,000 according to the magazine's December 2008 publisher's statement, that equates to about  9.1 million pounds of CO2 emissions.
Backpacker released a similar study in March 2008, and discovered it produced 500,000 pounds per issue in 2007. That magazine has a total paid and verified circ of about 346,000.
Meet the Author
---