National Geographic Launches Social Story-Telling Campaign With Sponsor

Twitter, Instagram and blogs used in editorial, ad play.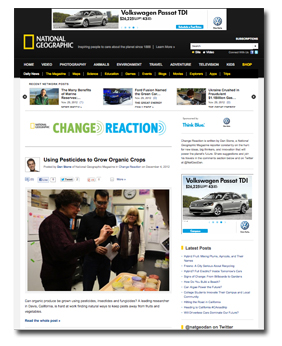 As social media continues to explode, more and more brands are turning to networking platforms to not only push out completed editorial content, but as a story-telling venue all its own.  In its latest campaign, National Geographic is taking to Twitter and Instagram to help tell its latest narrative, letting readers—and a sponsor—go along for the ride.
Dan Stone, the brand's newest reporter, embarked on an environmental road trip through California last week. Over the next two weeks Stone will tweet, Instagram and blog on new ideas and innovators along the Pacific Coast. He'll take story suggestions from readers through his Twitter feed, blog and the hashtag #CARoadTrip.
National Geographic has secured long-time advertising partner Volkswagen as a sponsor for this social campaign—Stone will travel California in the newest Jetta Hybrid, which won't be available to the public until next month.
"Volkswagen is an active advertiser so that's why we brought the opportunity to them," says Claudia Malley, executive vice president and worldwide publisher for National Geographic Global Media. "We wanted to experiment with this new kind of reporting and really engage consumers in telling the story they want to hear by keeping pulse on what the feedback is. We took it to Volkswagen because we partner with them on their sustainable lifestyle campaign, Think Blue."
Malley adds that the consumer interaction of this campaign through social media provided a unique opportunity to have an advertising brand seamlessly integrated into the experience. On NationalGeographic.com where Stone's blog is hosted, banner ads for Volkswagen line the website. Additionally, there are Instagram photos of the reporter standing next to the car. Malley says this campaign provides deliverables for Volkswagen outside of the traditional views or clicks.
"What's hard about the market right now is we keep trying to reinvent and then we put old measurements on [new campaigns]. Sometimes I feel like we're inhibiting ourselves because we continually try to put things into boxes and measure," she says. "Volkswagen is going to measure this by promotion—we're promoting it in our magazine, all over our website, there will be news blogging on it and dynamic lead promotion."
In addition to general promotion of the campaign, Volkswagen is getting exposure through National Geographic's Instagram feed, which just over took Teen Vogue this weekend as the number one most followed brand on the platform. The magazine now has over 588,000 Instagram followers under the official NatGeo feed, more than 12.2 million Facebook fans, over 2.7 million Twitter followers and more than 920,000 YouTube subscribers—making it the number one media brand on YouTube.
"We're bringing our advertiser along with us across this exciting new story-telling format—Volkswagen will be identified as our sponsor partner in all of the communications online," adds Malley. "That's the measurable piece, but there's also the immeasurable: [Dan Stone] will drive up to Berkley and, hopefully, talk to 200 students. He'll hang around later, standing by his vehicle talking to people. He won't be endorsing Volkswagen, and consumers are too smart for that now anyway, and it would just turn the whole thing in the wrong direction. There's all that kind of brand integration that you can't really measure so we're going to see how this will work as we push the boundaries. There's a new world out there so we have to be open, but we have to be smart."
Stay updated on the latest FOLIO: news, follow us on Facebook & Twitter!
Meet the Author
---