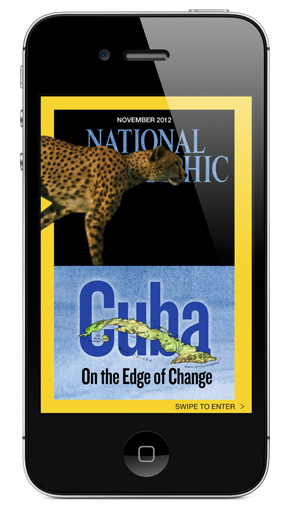 National Geographic's brand—which already reaches over 400 million worldwide—is about to grow a little bigger with the introduction of its magazine on Apple's iPhone.

National Geographic magazine's iPhone edition will launch with the November 2012 issue. The app will provide daily updates, including video, photography, audio recordings, maps, graphic timelines, daily feeds of news, Instagram photographs from the brand's photographers and photos from the National Geographic online community of fan photographers. Unique content will be offered each time a user opens the app.
"You'd think that the size is the first hurdle," says Bill Marr, National Geographic magazine creative director. "What we found was that the real challenge was organizing content. We had to re-think what we were doing on the iPad for this smaller format. We wanted it to be much easier to navigate and organize things simply—the table of contents is basically the guidepost to the whole app."
No matter where a reader is in the app they can click on National Geographic's yellow box icon and be brought directly back to the table of contents, which makes for easy navigation. Initially Marr said he and his team, who worked with New Jersey-based Joe Zeff Design to create the application, were considering organizing content by media type—siloing photos, video and articles in to separate categories. Ultimately, the creators thought it best to organize the app by departments—features, reader feedback, newsfeed, editor's letter, etc.
"We went back and forth for several weeks on this," says Marr. "By organizing by media, we weren't really allowing the story to become apparent to what people were getting into. If you click directly into a photo gallery and you don't know what the story was about, then the photographs have less meaning."
This lesson learned, adds Marr, is something the team will apply in its other digital spaces from now on—if the brand redesigns its website, it will work to keep its content together and "see each of the elements as a narrative tool to tell the story," he says.
The application will also be updated with not just monthly magazine content but news items on a regular basis. The application functions in both landscape and portrait mode—swiping horizontally to go from article to article, and vertically, when directed, for more pages.
"There's so many people that have mobile devices in their pockets or their purses," says Marr. "We need to follow the market and follow where our potential is."
Though National Geographic is still testing pricing, right now the single-copy price for the magazine on the iPhone is $4.99, with an annual subscription coming in at $19.99. Existing subscribers on other platforms will also have access on their iPhones—and possibly other mobile phones in the future.
"We'll of course need to expand into the Android marketplace," says Declan Moore, president of publishing and digital media for National Geographic. "We have so many readers outside of the United States and that platform, particularly on the phone, has greater market share. That's loud and clear—we're hearing the necessity to prioritize an Android solution on our roadmap going forward."
When it comes to mobile advertising, Moore says this is also an area like pricing that is still being worked out internally for a variety of reasons, namely the wait-and-see attitudes of the marketplace.
"In the late 90s and early 00s we had our nice print CPMs migrate to digital at a much slower level," he says. "Now we're seeing digital CPMs go to mobile CPMs at a much slower level. We've been through this kind of transition before—I really think going forward we're going to be developing more partnerships with clients that go beyond media impressions. That's a function of just how marketing is evolving and how consumers are interacting and behaving with content on these devices."
Moore adds that given the "small real estate" available on mobile devices publishers need to be careful—when consumers are paying for a product like a magazine on their mobile device having many ads can become intrusive.
"Getting that right is an opportunity and a challenge for everyone in this industry," he adds.
Stay updated on the latest FOLIO: news, follow us on Facebook & Twitter!