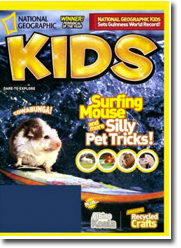 BPA Worldwide, the consumer and business media auditing company, reports that out of 97 periodicals monitored, National Geographic Kids leads with subscription sales, with 1.169 million subs sold from January-June 2011.
Sales are up over 40,000 from January-June 2010's sub sales of 1.121 million for NatGeo Kids.
Realtor Magazine followed behind in largest amount of subscription sales, reporting 1.04 million subs in first half 2011. However, subs are also down for Realtor from first half 2010; the magazine sold 1.092 million subscriptions from January-June last year.
As for single copy sales, the comic book series Archie's Plus Group sold the highest; 345,080 from January to June (another reason why Archie's kicking ass in first half 2011).
First half 2010 saw an even stronger single copy sale number for the Archie's Plus Group, with 434,734 single issues sold.
WWE Magazine followed behind in single copy sales (albeit at a distance), reporting 79,727 mags sold in first half 2011. In first half 2010, WWE sold 105,936 single copy issues.