National Geographic App Downloads Pass 4.5 Million

Digital magazine copies jump by 40 percent from January to June 2012.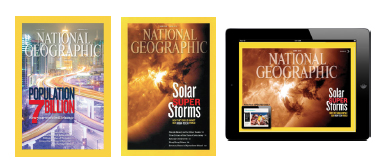 Natural science, exploration and adventure publication National Geographic is seeing traction in the digital space, at least according to its new Consolidated Media Report (CMR) from the Audit Bureau of Circulations (ABC).
The National Geographic English-language magazine app has reached 4.5 million downloads as of August 31, 2012, while the English-language version of the National Geographic Traveler magazine app has been downloaded by more than 740,000 since the same period.
According to a spokesperson from the National Geographic Society, this Consolidated Media Report shows only a fraction of the brand's actual total reach. The total universe for the English-language brands, according to ABC, sits at around 30.9 million. However, the spokesperson says, the brand universe actually tops 400 million worldwide when including its television channel that is available in 171 countries and its more than 40 foreign language publications that are available for National Geographic magazine, National Geographic Traveler and its children's magazine worldwide.
In the North American region of the world, the National Geographic English-language magazine digital replica is doing well—from January to June 2012, its reach has increased by 40 percent to 153,007 copies.
Having a presence with Apple has also helped the brand—there have been 1.08 million downloads of its World Atlas App, which is priced at $1.99. The second highest paid-app earner is its 7 Billion App priced at $4.99 with about 468,000 downloads.
More individuals internationally download the brand's English-language magazine app than those in North America did, though those in North America, according to the CMR, are more likely to be print subscribers.
With a total English-language brand reach falling around 30.9 million, the print publications of National Geographic are only one small portion of that total universe. Worldwide, there are about 5.1 million English-language print subscribers and about 190,000 paying digital customers (replica and non-replica). The English-language National Geographic Traveler magazine has a total print circulation of 706,863, with 28,590 paid digital replicas and 2,341 paid digital non-replicas.
NationalGeographic.com, generates a whopping 19.4 million monthly unique visitors and almost 220 million page impressions. From January to June 2012, the CMR shows the average time spent per visit online coming to about 10 minutes. International and U.S. traffic appears to be neck-and-neck: about 10.9 million unique monthly browsers come from the U.S. while 8.5 million of the monthly unique browsers are from other parts of the world.
Its email newsletters are distributed to about 5.5 million readers with the unique open rate falling at 26.3 percent and the click-to-open rate at 33.9 percent. The brand boasts 11.7 million Facebook likes and more than 2.7 million Twitter followers.
Renewal print rates for both the English-language National Geographic magazine in North America and internationally falls at 62 percent.
Meet the Author
---