Higher education just got a little more affordable, at least for student readers of The Nation magazine. The brand is offering college students a free six-month digital subscription to the left-leaning political weekly. In the last two weeks, the program has generated more than 1,000 subscriptions.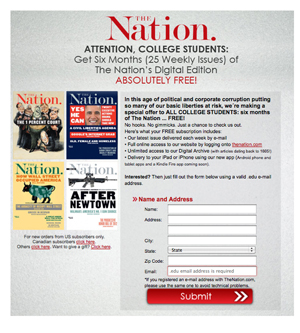 The Nation worked with its fulfillment provider to set up a subscription landing page specifically designed for the campaign—the two worked to ensure that the form would only accept an order from a valid .edu email address.
"We set it up to be a six-month subscription instead of a full year because we have a pretty good list of academics on our file and we didn't want them to drop their subscription and use this instead," says Art Stupar, vice president of circulation for The Nation. "My first concern was getting these people verified so they would show up on our AAM statement. We email the weekly digital issue to these subscribers, we can track them through promotion keys and they blend very nicely into our existing paid subscriber base."
The Nation is already reaching students studying politics, government and international affairs through its online students portal, but the magazine found a need to bring them into the legacy brand as well.
"We have a robust Student Nation program and we were trying to figure out what service impediments were blocking student subscribers," says Katelyn Belyus, audience development & digital marketing manager for the brand. "We felt a free digital subscription, which is very little to no cost for us to give away, would be something we could do from a conversion perspective. This gives younger audiences a taste of what we're doing and an opportunity to pull them into the fold and grow with us. We can segment them into their own group, and hopefully convert them after six months with a very low offer. After their free 25 week offer, we'll try to convert them for another 25 weeks at $9.50—it falls in line with a low cost for students."
Through traditional marketing campaigns and social media initiatives, The Nation is capturing this new qualified audience and transforming it along the way.  The brand created different landing subscription pages and offers for each of the promotions the pushed across Tumblr, Twitter and Facebook. After one push to Tumblr, about 35 percent of all clicks from the site generated a subscription.
"We came up with a marketing image that was Facebook optimized and did about two Tweets a day—since we had different landing pages for different platforms, we were able to track all of the data for each promotion," says Annie Shields, community editor for The Nation. "People who aren't college students are also sharing this information because they think it's a great opportunity for college students."
In addition to using social media, the brand is utilizing its classroom program to push these free digital subscription offers to its list of more than 2,500 academic professionals, in hopes they will be distributed across college campuses. The brand has an educator newsletter that goes out each week, as well as a weekly teaching guide, and this special offer will be included in these materials as well. Word of mouth will also be used to promote the offer—the publisher and writers of The Nation regularly speak at universities around the country, and will be plugging these offers as well.
While the ultimate goal is conversion, The Nation team says they will work to provide students with other offers, like free newsletters and exclusive Web content to further bring them into their universe.
"They can get a feel for The Nation on a regular basis," adds Belyus. "We'll work to convert them to become a paid subscriber, but if they don't convert right away there are a lot of opportunities to bring them into our brand."
Stay updated on the latest FOLIO: news, follow us on Facebook & Twitter!