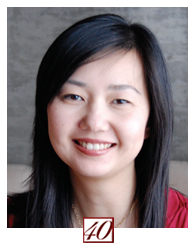 Natalie Zee Drieu joined O'Reilly Media's Make three years ago. One of those years she spent planning the launch of sister publication Craft, a magazine that was intended to be a special issue of Make but became a magazine with a circulation of 55,000 and an accompanying Web site, Craftzine.com, that gets upwards of 1.2 million page views per month.
Drieu writes features for the magazine and contributes multiple posts per day to her popular blog on Craftzine.com, but most of her loyal readers probably don't realize that she also designed the site. Drieu has written several books on Web design and HTML and designed Craftzine.com, Makezine.com and her personal fashion blog Coquette-a site she runs "for fun" but which generates 60,000 pages views a month and has been rated one of the top 50 fashion blogs in the country by FashionIQ. Coquette is part of the Glam.com ad network which, Drieu says, "covers the cost of my typepad account, but it's really about making my own voice."
That voice has played a large role in Craftzine.com's success. The site won a Webby award in 2007, during most of which Drieu was the only blogger. She says it's common for readers to send her e-mails or approach her at Craft events, asking for tips or just thanking her for her posts. "Everyone knows on our site that I use a personal tone so they feel comfortable talking to me. I've had people say, 'You don't even realize, I start my day and go to Craft, and I check it a few times a day.'"
The 35-year-old editor, writer, blogger and designer has also made several television appearances on behalf of Craft, including several San Francisco news programs and the CBS' "The Early Show." Bi-weekly, she films "crafter about town" video podcasts and posts PDF pattern podcasts, the most popular of which has reached more than 50,000 downloads.
VITAL STATS: Drieu has been a driving force in growing Craftzine.com's traffic numbers up from zero to 1.2 million since its launch in October 2006. She also designed the site, along with sister site Makezine.com and personal fashion blog Coquette, which is part of the Glam.com network.