Natalie Sacco

Digital Media Manager, Penton | Age: 29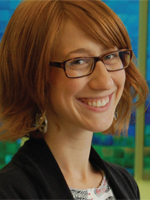 Takeaway: Sacco's social media expertise has nearly tripled traffic referrals in the past year.
When Natalie Sacco joined Penton Media as a social media specialist in January 2012, she wasted no time whipping the editorial team into digital shape.
"I conducted monthly workshops where I would just cover one aspect of social media," she says.
While the goals of the various brand accounts were to generate leads and drive traffic, the social media goals of the editors were to establish themselves as industry experts, she says. With a little guidance from Sacco, the team that once studied in "Twitter 101" now successfully promote their content online and are frequently invited to speak at and moderate industry conferences.
Sacco was promoted to digital media manager for the company's manufacturing and supply chain group in May, which has led to a new set of goals.
"Now that I'm more on the client-facing side, I need to think about what our advertisers' goals are," she says. "Moving into the end of 2013 and into 2014, we're looking at ways we can partner on content marketing initiatives."
Inviting advertisers to sponsor custom pages has gotten readers engaged and clicking. A recent e-blast went outside the box in terms of user experience design, resulting in high open rates and visible promotion.
Meanwhile, her team has learned well from those first seminars. Social media traffic has nearly tripled in the past year, she says, and she's determined to have it triple again by the end of 2013.
Meet the Author
---