Must-Have Metrics

In an age of accountability, these are the metrics that matter most.
There is almost no end to what you can measure and track from your online properties. Yet if you have no formal Web analytic and reporting structure in place then you're flying in the dark and making two critical errors: Ignoring your readers and under delivering to your advertising partners. Beyond the basics of tracking unique visitors, page views, and average depth of visit, among others, publishers are focusing on content category and format performance, social media traffic and engagement, and the variety of relationships between traffic and revenue.
Understanding Bounce Rate
Jason Revzon, VP of interactive at Taunton Press, counts the bounce rate as one of his top metrics. Calling it the "pulse of engagement," Revzon parses out visits with bounce rates and visits without bounce rates. "If your site has an average of five pages per visit, the non-bounce rate version of that could be 25," he says. "You want to segment the people into two groups—those who leave and those who don't."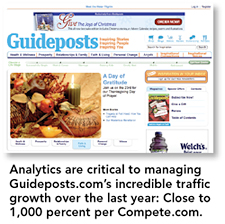 From there you can drill down to where people are leaving and diagnose the potential problem. For example, is the content missing the mark? Is the traffic coming from a social bookmarking site, where visitors are simply doing a quick drive-by?
At IDG, Alexa Wriggins, director of online marketing for Macworld and PCWorld, keeps close tabs on referral traffic, which can lead to content partnerships. Almost all of the metrics Wriggins tracks are broken out under the eight top product categories on the sites—laptops, cell phones, and so on. "We'll look at referral traffic by product category," she says. "We also look at referral channels—Google, Google News, Digg, Facebook and Twitter. Those change over time, and Twitter and Facebook are emerging. We need to keep an eye on what's on the top but also what's on the bottom so we can look for opportunities for a syndication partner."
Tracking Revenue
Traffic's impact on revenue is another key metric—and not just for CPMs. Guideposts.com VP of digital media Phillip Charles-Pierre benchmarks the site's engagement metrics against the site's e-commerce section and subscription pages. "We want to see if we're doing a good job of promoting who we are and the kinds of products we have," he adds. "It helps us understand how we're driving traffic back to the organization. If we're not getting enough traffic to the shop there are other things we can try to get them there. Or if we have enough traffic and aren't getting any orders, then it might be a conversion issue or a revenue per order issue. We measure that as a percentage of our total visits to the site. And then we measure the people who convert to total orders and revenue."
Taunton has several online revenue streams—paid memberships, ads, affiliates, and Google AdSense. Revzon measures revenue per visitor and revenue per page. "We can look at one section and have a per-unit KPI looking at what the revenue is per page or per user and if that's going up as we add more traffic."
SIDEBAR:
Defining Your Web Analytics Strategy
By Eric T. Peterson, founder, Web Analytics Demystified
Generating pretty reports won't help you better leverage an increasingly important online channel, at least not for long.
There are any number of small plans, easy actions and short-term goals that can be considered "well-defined strategies." The problem is that small plans, easy actions and short-term goals don't get the job done and won't help your online business take advantage of the rich tapestry of information your site visitors leave behind as they traverse your online properties.
A well-defined Web analytics strategy requires governance from senior management and a mandate to use Web data in the same way companies have long used customer data to segment lists, design products, and expand into new markets. A well-defined Web analytics strategy depends on a team of individuals with specific talents—analysts, technicians, and managers—working in concert to produce reports and analysis designed to improve the whole company's understanding of the online channel.
More importantly, a well-defined Web analytics strategy requires a willingness on the part of the entire company to embrace both the whiz-bang technology du jour (social commerce, anyone?) but also the measurement of that technology to confirm that the investment actually provides value back to your whole business.
Meet the Author
---