If your audience is everywhere, should ads be too? Cross-platform media sales can work much better than a single type of buy all on its own. At Folio:'s annual conference for publishing professionals, the MediaNext Show, Chuck Richard, vice president and lead analyst at research firm Outsell, shared insights and provided best practices for cross-media campaigns.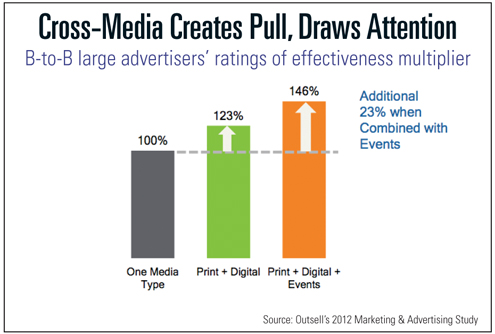 Richard recommends a cross-media approach to draw attention and suggests the following strategies for maximizing awareness:
1. Contribute to Cross-Media Analytics
Quantifying when, where and how to incorporate an in-person event and print into a promotional campaign will help publishers track, analyze and use information that reflects media and packages that are successful for specific objectives.
2. Match Cross-Media Components with Readers' Natural Preferences
Let the market dictate your cross-media efforts. "Refute and don't buy into—via silence—the false assumption of an all-digital world," says Richard.
3. Inform and Educate Your Sales Force of the Cross-Media Multiplier Effect
"[The] cross-media multiplier effect is not yet reflected in pricing for cross-media packages, which are being sold too cheaply and do not reflect the results they deliver," he says. "By demonstrating the results and higher ROI, publishers can move to higher rates based on these higher cross-media campaign ROIs."
4. Digital-Only Companies Gain by Incorporating Print and Events
Even if you're a digital-only publisher, look for opportunities to incorporate other media types. This can be done through a partnership with other media companies or brands, or through launches of your own. Remember, few advertisers use only one type of media—fill the gap for your clients.
5. Price Cross-Media Campaigns to Reflect the Increased Effectiveness
According to Outsell data, 91 percent of large b-to-b firms (those that have more than 1,000 employees) and 67.8 percent of small b-to-b firms (those with 100 or fewer employees) spend on three, four, or five types of media in their marketing efforts. "Well designed cross-media campaigns are not the same as the sum of their specific media parts and pricing for them should be differentiated and raised to reflect the documented 2x cross media-multiplier effect," says Richard.
6. Build Cross-Media Solutions for Advertisers
A multiplatform package for advertising clients can be the core tenant that sets you apart from your competitors. The proof is in the numbers. According to Outsell data, b-to-b large advertisers' ratings of multiplier effectiveness hits 146 percent when including print, digital and events. When it comes to consumer large advertisers' ratings of multiplier effectiveness, the number is also high—139 percent for print, digital and broadcast.