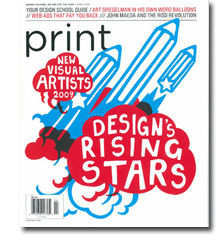 The irony here is thick.
F+W Media recently let go Emily Gordon as editor-in-chief of Print magazine. Now, the publisher is looking for a content director to replace her—someone it says will head content development strategy across media platforms, including digital, social media, e-commerce, books, events as well as the print magazine.
When I spoke with F+W president David Blansfield about the change, he declined to speak directly about Gordon's departure but did have this to say: "A lot of publishers are facing the challenge of how to inspire legacy editors to think and act on building value across platforms beyond only print."
So, was the editor of a magazine called Print ousted for being too print-focused? Gordon—who founded New Yorker fan/media/culture blog Emdashes.com—doesn't seem to think so.
"Earlier this year, I got a raise and a bonus for my overall performance and positive attitude, and for keeping the magazine running with a scant five staffers," she told me. "We relaunched the Web site and launched full sail into social networking, extremely thrifty video production and viral marketing, which became some of the most enjoyable and rewarding new projects I've embarked on in a long time."
Pointed fingers aside, I don't think anyone needs to explain F+W's logic in wanting a content director (be it Gordon or someone else) to manage the brand across multiple channels. Print magazines no longer are the center of a publishing company's universe, as F+W's CEO recently reiterated during the 2009 FOLIO: Show. It's one piece of the overall content distribution pie. In fact, one could argue that it's a secondary piece to online, social media, etc.
We're seeing lot of "legacy" magazine staffers being shown the door now. In this market, publishers are turning their backs on people who are unwilling or considered unable to adapt to selling/producing a brand beyond the printed page. It's a cold fact.