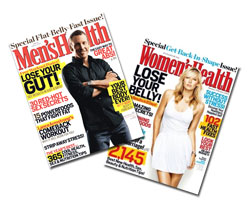 MSN has entered into a partnership with Rodale Inc. for which the publisher's magazine content will be repurposed online at a new MSN-branded health and wellness site which is expected to launch this fall.
The site will focus on topics including diet, fitness and nutrition, and will feature original content as well as content pulled from Rodale's Men's Health, Women's Health, Prevention, Runner's World and Bicycling magazines.
According to MSN executive producer Scott Moore, lifestyle content is increasingly popular among consumers as well as advertisers, and MSN sees "great opportunity in expanding our current lifestyle offerings by delivering a new experience that is unique to the health category."
A Rodale spokesperson declined to comment when asked about the site's business plan and if there is a profit sharing component to the agreement.
Last month, MSN partnered with Elle publisher Hachette Filipacchi Media U.S. and BermanBraun to launch Glo.com, a lifestyle site that focuses on style, beauty, living and relationships. MSN was to lead the site's advertising sales efforts along with Hachette, while Hachette and BermanBraun were to collaborate on design, programming and operations.