MSLO Grows Advertising Revenue, But Publishing Segment Flat

Company buys 40 percent stake in Weddingwire.com.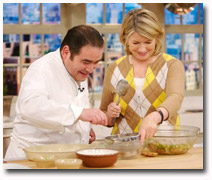 Martha Stewart
Living Omnimedia reported a 2 percent increase in revenue during the first
quarter, with its advertising-supported broadcasting and businesses driving that
growth. The publishing segment, however, was essentially flat.
According to CEO Susan Lyne, the positive start "demonstrates the resilience of our
brands, especially given the challenges facing the broader advertising and
retail markets. We're particularly encouraged to note that we continue to see
ad growth in the second quarter."
The company's
$50
million acquisition of the Emeril Lagasse franchise in February, she said,
helped diversified its portfolio and "added a high-margin revenue stream" that
will contribute to MSLO's full year results.
In a seperate announcement Tuesday, the company said it had agreed to buy a 40 percent stake in Weddingwire.com, an online wedding planning company. Terms of that deal were not disclosed.
Overall revenue
was $67.8 million, compared to $66.7 million for the first quarter of 2007.
Publishing revenues in the first quarter increased slightly, to $40.8 million
from $40.6 million in 2007. Excluding revenues from Blueprint in the prior
year's quarter, the company says the increase would have been 4 percent, with
advertising revenue up 6 percent. Blueprint folded in December.
Publishing operating income was
$1.7 million, compared to $1.3 million in the first quarter of 2007.
Adjusted EBITDA at $2.4 million
was flat, the company said due to higher costs to produce and distribute the
magazines.
Lyne said that advertising revenue for the second quarter is on track to increase by "mid-single digits."
Meet the Author
---