MSLO CEO: Mag Industry Headed Toward 'Period of Consolidation'

Susan Lyne at McGraw-Hill Summit: A number of magazines will fold.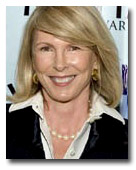 NEW YORK—During an afternoon session at the McGraw-Hill Companies' annual Media Summit on Wednesday, Martha Stewart Living Omnimedia president and CEO Susan Lyne spoke on a number of magazine publishing-related topics, including her prediction that the industry is heading toward a "shake-up," during which a number of magazines will fold.
"We've seen three or four years of a robust ad market," Lyne said. "Less than established brands, with poor circulation numbers, have survived because there are a lot of ad dollars out there. This will be a period of consolidation and a number [of magazines] will fold."
Blueprint, Martha Stewart's personal lifestyle spin-off, folded in
December.
Lyne spoke also about how MSLO diversified while its namesake spent five months in prison between 2004 and 2005. "We needed to figure out how to go to market with a more robust way and offer multi-platform content in a print challenged world," Lyne said.
Lyne joined MSLO as CEO in November 2004. Since then, the company has expanded to include Web sites, television and radio broadcasting, and merchandising businesses in addition to its print magazines. MSLO also has landed numerous licensing deals and last month forged
an agreement with star chef Emeril Lagasse
to acquire his non-restaurant assets for $50 million in cash and stock.
Lyne says a significant hurdle facing magazines online is an overabundance of information—both staff- and user-generated. "The biggest challenge for content producers is that there is just so much information," she said. "What people, users, really want is a good editor. They should consider themselves not just a producer but an editor of valuable content."
Meet the Author
---