Ms. Refuses to Publish Jewish Group's Ad

American Jewish Congress furious; Ms. says ad 'appeared to be political.'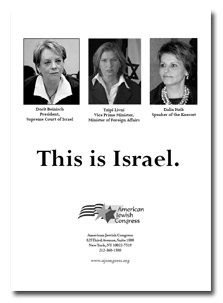 A Jewish association is up in arms over Ms. magazine's refusal to run an ad the magazine's editor says appeared to be political.
The American Jewish Congress (AJCongress)—a membership association of Jewish Americans organized to defend Jewish interests in the U.S. and abroad—submitted an ad [right] featuring photographs Israel's Supreme Court president Dorit Beinish, vice prime minister and minister for foreign affairs Tzipi Livni and Knesset speaker Dalia Itzik above the heading, "This Is Israel."
Ms. executive editor Katherine Spillar says Ms. accepts only "mission-driven advertising" and, because the ad "appeared to be political," Ms. feared running the ad would make the magazine "appear to be meddling with politics in another country."
"Ms. has the right to turn down our ad," said AJCongress president Richard Gordon in a statement. "But in exercising that right, it has spoken loudly about itself and its readership, and their lingering hostility to Israel."
According to a release from AJCongress, when the group tried to place the ad, it was told that publishing the ad "will set off a firestorm" and that "there are very strong opinions" on the subject, which AJCongress has interpreted to be, according to the release, "whether or not one can say anything positive about Israel." The release also states that a Ms. mag representative told AJCongress that Ms. "would love to have an ad from you on women's empowerment, or reproductive freedom, but not on this."
"The irony of all this," Spillar told FOLIO:, "is that we are publishing a two-page profile on Israeli vice prime minister Tzipi Livni in our winter issue, highlighting her career and accomplishments as an Israeli woman leader."
UPDATE: After FOLIO:'s article was published, Ms. released a press statement explaining its rationale further. "Ms. magazine's policy … is to only accept mission-driven advertisements from primarily non-profit, non-partisan organizations that promote women's equality, social justice, sustainable environment, and non-violence. The ad submitted by AJCongress for consideration appeared to be a political ad, and as such, was inconsistent with this policy. With two of the women featured in the ad from one political party in Israel, Ms. concluded that in accepting the ad it could be viewed as though it was supporting one political party over another in the internal domestic politics of a country."
Meet the Author
---