Mr. Magazine's Launch(es) of the Year: Dash, Athlon Sports

Newspaper-distributed, branded magazines dominate Samir Husni's annual list.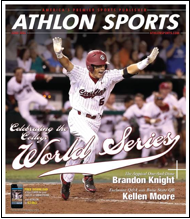 Dr. Samir Husni, aka "Mr. Magazine" has named two magazines distributed through newspapers as co-recipients of his "Most Notable Launch of 2010" honor.
Athlon Sports, launched by Nashville-based b-to-c and b-to-b integrated sports media company Athlon Sports Communications, is the self-proclaimed "largest sports magazine in the world," reaching 9 million homes each month via distribution with more than 500 newspaper partners.
"From the leading publisher of Athlon annuals, here comes the first-ever monthly newspaper-distributed-magazine aimed at men with an initial circulation of seven million. Athlon Sports debuts as the largest sports magazine in the United States and the world for that purpose. . .It's a testament to the power of print and its incredible reach to a vast audience," writes Husni.
Parade Publication's food magazine Dash (no connection to the Mrs. Dash brand) shares the title of Most Notable launch with Athlon Sports, with launch circulation of 8 million delivered by newspaper. "From the mother of all newspaper-distributed-magazines Parade, Dash deserves the top spot in the world of new magazine launches of 2010," says Husni.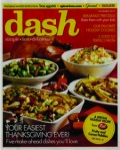 The list includes 28 other "notable launches," with several magazines that serve as marketing extensions among them, including @gamer, published by Future for Best Buy, Guy Harvey Magazine (an extension of the Guy Harvey line of marine and fishing apparel), two tattoo magazines in Bound by Ink and Inked Girls (a spin-off of Inked), as well as two relaunches in The Hollywood Reporter and Martha Stewart Omnimdia's Whole Living (formerly Body and Soul). And of course, don't forget the High Times spin-off, High Times Medical Marijuana.
Husni's full list is available here.
Meet the Author
---