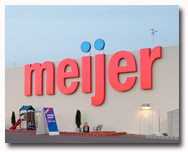 Faced with its members' hemorrhaging newsstand sales, the Magazine Publishers of America are testing a promotion at a Midwest retail chain to offer magazine buyers a reward for buying magazines.
Between August 21 and September 6, anyone who buys two or more magazines at Meijer stores in Indiana, Illinois, Kentucky, Michigan and Ohio will get a $2 discount on their next purchase at the store.
The promotion is being funded by the MPA and a consortium of publishers, including Bonnier, Condé Nast , Hachette, Meredith, Reader's Digest Association and Rodale.
Each store will have a special nine-magazine display bin at its entrance, as well as signage at checkouts and a full-page ad in Meijer's local newspaper inserts.
The goal, according to Jeremy Koch, EVP, consumer marketing at the MPA, is to "bring additional attention to the magazine category at retail and to stimulate trial of new titles."
"Right now, this is a test, but in the long term, we'd like to see this type of promotion build into something of a larger scale," Koch told FOLIO:. "This test is a way for us to learn a lot, to learn about the willingness of publishers to get to together and support the retailers."
Koch says the MPA will use the test to measure various factors in hopes of building a larger plan in 2009. "We'll be looking at several things," he said. "We'll look at movement in total sales during the promotion, which we'll measure against sales during the same period in previous years. We'll look at market basket analysis and whether or not we increase the number of customers who purchase two magazines or more. We'll look at how many people redeem the coupons. We'll also look at the sales of those nine magazines on the display to see if the extra display drives incremental sales."