MPA Redesigns, Relaunches Web Site

Includes new navigational format; lacks social media funcionality, for now.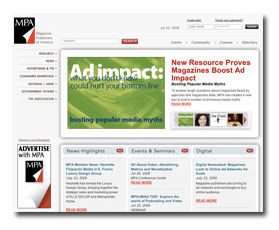 Not to be outdone by b-to-b publishing's American Business Media's site relaunch in early 2008, the consumer magazine industry association Magazine Publishers of America relaunched its site Tuesday. Most prominent in the redesign is a new navigational format. Social media functionality is scarce for the time being.
"We redesigned [the site] not only to increase online engagement with our various constituents but to also better take advantage of technological advances in the digital space," said Nina Link, MPA's president and CEO, in a statement. The comment reflects what Link has typically said when noting various examples of magazine publisher Web sites at MPA events.
The site has ditched its top-of-page, mouse-over scheme for a left-margin navigation format. Additionally, the site now offers RSS functionality and a "community" page, which lists links to MPA groups and content on Facebook, LinkedIn and YouTube. "The redesigned site displays the content in a smarter way to meet the needs of the users," said Debbie Martin, director of information services, in an email. "When we surveyed members and non-members during the development stage we discovered that most people visit magazine.org for research and news. So we've highlighted news and research. Also, the new Flip Book feature allows users to quickly see what's topical and relevant."
Traffic to the site, which averages about 200,000 unique visitor sessions per month, varies according to what's happening in the industry, says Martin. Though the resource-intensive sections, such as Advertising and PIB, tend to be perennial traffic drivers. "Currently, the fastest growing section of our site in terms of visitors is the Digital section. The digital newsstand, digital initiatives and the member blogroll are updated throughout the day," says Martin.
More social networking functionality is in the works, Martin says. As the AMC show draws near, a blog related to that show will be added. And within the next few months, a more robust community section will debut and will include a member discussion forum and expanded social networking features.
Meet the Author
---