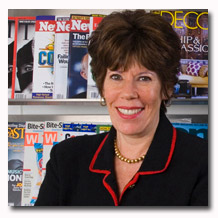 The MPA announced today that its president and CEO, Nina Link, will be stepping down at the end of the year. Link has held the position for 13 years, longer than any MPA president in the organization's 93-year history.
Prior to joining MPA in late 1999, Link served as group president, publishing and interactive for Sesame Workshop, formerly Children's Television Workshop. Link also headed her own consultancy, The Link Group, Inc.
Under Link's leadership, in 2010, the association changed its name from the Magazine Publishers of America to simply MPA, adding the new tagline, "The Association of Magazine Media," to reflect the industry's shift toward a multi-platform, brand-based focus.
This year, Link created a coalition of senior magazine executives to establish voluntary tablet guidelines to increase transparency in audience measurement on the platform. In 2008, she led an initiative to speed up the reporting of audience data, for magazine brands to better compete with TV and Web.
Link currently serves on the boards of the Ad Council, New York University's Center for Publishing and International Federation of Periodical Press (FIPP).
MPA has retained executive recruiting firm Blinkhorn, LLC to conduct a search for Link's successor, according to Michael Clinton, chairman of the MPA Board of Directors and president, marketing and publishing director for Hearst Magazines.
Further details available here.