MPA Launches 'Playful' New Ad Campaign

'Under the Influence of Magazines' hopes to show advertisers power of print.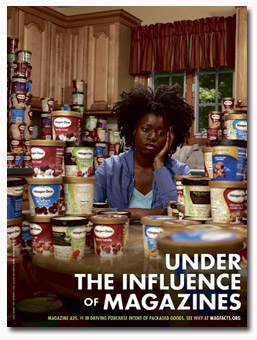 With its members taking huge hits in newsstand and advertising sales in 2008, the Magazine Publishers of America today announced a new ad campaign—dubbed "Under the Influence of Magazines"—to tout the "strong" role magazines play in influencing consumers' purchasing intent and behavior online.
The campaign, created by the agency Toy New York, is scheduled to launch on September 8 with three tongue-in-cheek print ads and seven online ads in advertising trade press and in complimentary copies of MPA member magazines. The ads point to a mini-site, magfacts.org, which claims that magazines are the number one medium in driving search among 18- to 44-year-olds, influencing automotive purchase (66 percent more influential than television) and packaged goods intent.
In a twist, the ads will include a spate of product placement—Adidas, Häagen-Dazs and Mini Cooper, winners of the recent Kelly Awards competition for magazine advertising. (The MPA says the companies are not paying for inclusion in the campaign.)
The MPA has tried the humor route before to promote the power of magazines, with questionable success. In 2006, the association created a fictional superhero, "Captain Read," in a $50,000 campaign that was criticized by some of its members as a waste of dues.
In 2005, the MPA formed the Magazine Marketing Coalition, in part, to promote the relevancy of magazines in an increasingly digital world.
Meet the Author
---