MPA: Despite Newsstand Losses, Overall Consumer Circulation 'Stable'

New white paper aims to set the record straight about recent FAS-FAX report.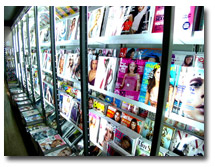 Overall consumer magazine circulation through the first half was stable, with subscription gains offsetting newsstand declines. That's the overarching point of "The Full Story on Magazine Circulation Vitality," a new white paper released by the Magazine Publishers of America. The report, according to the MPA, aims to set the record straight about the recent Audit Bureau of Circulations' FAS-FAX report.
"We created the Magazine Circulation Vitality White Paper because there is a positive circulation story about the magazine industry that is being ignored," Ellen Oppenheim, MPA's executive vice president and CMO, told FOLIO:.  "There's obviously confusion between the impact of the recession on ad pages and the consumer's relationship with magazines. And those assumptions are often wrong. Subscriptions are up. Magazine readership remains steady.  Consumers flock to newsstands when big news breaks like the death of Michael Jackson. When you look at the big picture, the facts tell a strong story."
According to ABC's FAS-FAX report, overall paid subscriptions for 521 reporting titles remained flat through the first six months of 2009, up about half a percentage point. Single-copy sales, meanwhile, were down 12 percent versus the same period last year.
Newsstand sales—an area the MPA said press accounts focused too much on—account only for 12 percent of total consumer magazine circulation. Looking at the "big picture," the report shows more positive takeaways: subscriptions are up over the same period last year, circulation executives are capitalizing on new technology options to market subscriptions differently and more efficiently, and magazine readership continues to grow—up about 5 percent from 2005.
The white paper pointed to online subscription sales—including those from digital outlets like Maghound, Coverleaf and Zinio—as a significant growth channel moving forward. According to the report, more than 20 percent of magazine subscriptions will be sold online this year, an increase of nearly 70 percent from three years ago.
The report also noted a 2.6 percent uptick in unit sales and revenue in May and June. Sales in July saw a spike due to the series of special issues dedicated to Michael Jackson, which accounted for roughly $55 million in extra (although one-time) revenue.
The report suggested that these "positive indicators" may signal a shift in momentum for newsstand sales.
Meet the Author
---