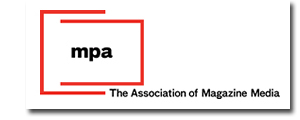 Two days before the group's big industry conference kicks off in Chicago, the Magazine Publishers of America Friday announced that it is changing its name as well as its tagline. Moving forward, the group will be known simply as MPA. The new tagline will be: "The Association of Magazine Media."
In addition, MPA has changed its logo [pictured]. It replaces the association's previous turning page symbol.
According to a letter from MPA president and CEO Nina Link, there are three reasons why the group is making the changes. She says it more clearly defines its members as multi-platform magazine media companies, it recognizes the global reach of its members and better reflects innovations being made by technologies and new devices.
"Magazine brands are undergoing an exciting transformation, and now the industry's trade association has a new name, tagline and logo that reflect the dynamic changes in our business," Link says in the letter. "Our new logo helps us express all of these points. The two rectangular frames evoke just some of the many ways through which magazine media can now be experienced and enjoyed."
MPA's American Magazine Conference is scheduled to begin Sunday in Chicago. At the conference, MPA says it will announce a new leadership agenda, concentrating on four core areas: convening industry leaders to advance common interests; advocating on behalf of the industry with state and federal policymakers; promoting the value and vitality of magazine media to critical constituencies including advertisers, consumers, the financial community and the press; and driving innovation, thought leadership and best practices in magazine media.
"In defining our business as magazine media we are explicitly focusing MPA's leadership agenda on promoting magazine brands and their unique relationships with consumers across all platforms," John Q. Griffin, outgoing MPA Chair and President of National Geographic Publishing Group, said in a statement announcing the changes. Griffin is set to be replaced as chairman by recently-named Time Inc. CEO Jack Griffin.