MPA: Advertisers, Content, Audience All Up Since 2010

Brands advertised across all magazine platforms up 57 percent since 2010.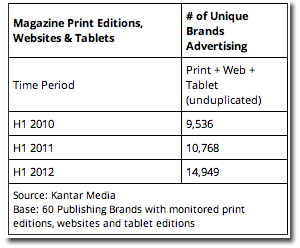 With a renewed focus on the digital side of publishing, the Association of Magazine Media (MPA) released data showing a 57-percent increase growth in the number of brands advertised since tablets first entered the marketplace in 2010.
The study, conducted by Kantar Media, reveals that 5,413 new brands started to advertise with magazines since the first half of 2010, including 3,374 that have done so at least partially on tablets.
Content has grown exponentially over that time as well, driven by the introduction and proliferation of mobile devices. Tracking by McPheters & Company i-Monitor shows that almost 10 times the amount of apps are now available when compared to Q3 2010. MPA's own research from the week of October 1, 2012 says that 66- to 86-percent of the highest-grossing iPad apps in the Lifestyle, Health & Fitness and News categories were developed by magazines.
Total audience has increased also–4 percent in the last year–albeit at a slower rate, according to GfK MRI research.
"The commitment of brands and advertisers is increasing in magazine platforms," says Mary Berner, president and CEO of MPA. "Now what we don't have is the revenue underneath it, so we're working to get that data. It's really the wild, wild west in data right now. There are so many different ways to look at it and measure it–there's a lot of data, but not a lot of insight out there."
The release coincides with Berner's recent appointment to MPA, and, she says, is indicative of the research the organization will provide moving forward.
"One of the first things I did was to do an audit of all the ways that magazine media is measured because what is reported is one leg of a three-legged stool," she says, referring to often-cloudy online and mobile segments. "[It's] always around traditional print metrics. There needs to be a clearer picture of what's really going on in magazine media."
"Obviously you want insight, but at this point, what we've got is directional data," she adds. "There are a lot of tools and a lot of ability to track, but the ability to determine what it means is still evolving."
To stay updated on the latest FOLIO: news, become a Facebook fan and follow us on Twitter!
Meet the Author
---