Moving Toward 'Device-Independence'

Publishers look to vendors for ways to publish once and download many times.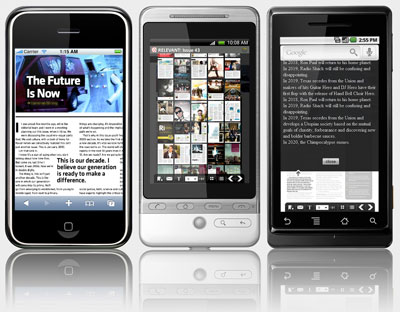 While developing iPhone apps has been all the rage for publishers and their digital edition vendors in recent months, moving toward platforms that target all mobile devices and e-readers without requiring additional work from the publisher will be the focus for 2010.
Consumer enthusiast publisher Harris Publishing recently started using the new Mygazines Mobile service, which uses the mobile Web browser (rather than creating device-specific apps) to offer digital editions across mobile devices ranging from the iPhone to the Android.
"We're trying to find extra ways for our subscribers to get the content of the magazines," said Chris Searle, digital manager and graphic designer with Harris. "We're giving them multiples ways to view it or access it at their convenience. When we were looking at digital magazines, we didn't want it to be another Web page full of additional information. We wanted to make sure it still had the look and feel of the magazine with its own identity."
Harris is using Mygazines Mobile with Houseboat magazine, and Searle says the publisher hopes to get some hands-on feedback from readers at an upcoming houseboat show. "This is very new for us, especially on the mobile side," he added. "For online content, we've seen a dramatic increase in subscriptions and readership. This is a whole new market we're been tapping into."
While Mygazines Mobile looks like an app, it runs off any mobile browser (and is offered without additional charge). Similar features are available for the mobile editions, allowing readers to flip pages, zoom in up to three times, share and social bookmark.
"A lot of our publishers send out e-delivery notifications that a new issue is available and include a link to that issue in the e-mail," says Mygazines CEO Yoav Schwartz. "Up until now, readers would have had to click on that e-mail while at their desktop. Now we've blurred those lines—wherever they receive the email, they can click on the link and the digital edition will open up. If you're a subscriber to a magazine, you want to access that content wherever you are."
Mygazines Mobile auto-detects the device trying to open the content and converts it. "Aside from a small screen, when you're on a mobile device, you don't have broadband," said Schwartz. "The amount of data you have to download is pretty small compared to what you'd have to download on the big screen. We have to dynamically resize the data to fit the screen."

The Search for 'Total Solutions'
Skram Media has signed up with Zinio's "Unity" platform, which uses an intelligent reader and develops apps for devices ranging from PC to laptop to tablet and iPhone. "Growing the reach of our magazines is the key focus for 2010," said Skram Media founder and CEO Mark Crowther. "We need to be offering as many entry points to our content as we can if we are to grow the audiences and the sports we publish into, as well as developing new ways for existing readers and subscribers to interact and consume content. The computer-based page-flipper digital magazine is well trodden; the key focus in my mind needs to be having the content available to readers on any device they want, and to avoid the hassle of having to have separate solutions for each device."
Crowther is looking for vendors to offer publishers total solutions. "Spending time searching out solutions for different elements of a Web site, be it video or social media apps, and trying to integrate them into existing platforms is time consuming and expensive," he said. "And often the expense of integration kills the opportunity."
Meet the Author
---