Moving Content at Internet Speed

A peek into VentureBeat's edit operation.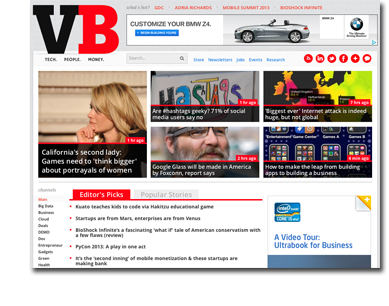 VentureBeat, an online publisher covering the business and technology market, is one of many digital media outlets that rely on a relatively small editorial team, yet pushes out a high volume of content—a necessary evil to stay top of mind in a competitive market. Yet determining the formula for story selection, format, frequency and beat is a highly choreographed operation. Here, VentureBeat's executive editor Dylan Tweney offers a look into how the site keeps the content beast fed.
VentureBeat attracts about 4.7 million unique visitors according to internal metrics and an editorial staff of 12 people produce upwards of 60 stories per day—about 35 on VentureBeat and another 20 on GamesBeat—currently a VB channel, but in the process of becoming a standalone site.
"We have a pretty high rate of production—3-5 posts per day per staff member," says Tweney. "The goal is to provide comprehensive coverage on whatever matters to our audience."
During that content production process, Tweney and the editors are perpetually examining opportunities for unique story-telling, different coverage angles, scoops—or not. "We want to spend the majority of our time focusing on stories where we're creating value, bringing something to the web that hasn't been done before—a scoop or advancing a story significantly. There's also the 'scoop of perception,' which is looking at something in a new way."
In the meantime, there are more than a dozen channels to populate with stories. In between the unique stories or narrative advancements are the briefs. "If we can't add a significant amount of news to [a story that's been covered], the goal is to write a brief. Refer to the original and be done with it. It's a constant balancing act. That's the biggest challenge of being a new media news organization. We're constantly having to make decisions on how to allocate time and resources."
Tweney and the editors don't have daily meetings. Instead, they're in constant contact through Yammer and a Googledoc spreadsheet. Nor do they have a particularly developed taxonomy of story types—there are the briefs, weightier one or two-source stories and then features, which writers are given extra time to work on and publish throughout the week, with at least one appearing each day.
"The features insulate us from the vagaries of the news cycle," says Tweney. "At least we'll have a feature in the can that will anchor our coverage for the day."
A rotating leadership position, called "news captain," is assigned to staff to keep tabs on breaking stories, tips and general oversight.
Writers are assigned to beats, but most are expected to perform as generalists due to the number of verticals the site covers. Yet the beats allow writers to dig into a specific area and build their source pools.
Tweney tracks metrics with Google Analytics and content engagement through Chartbeat and Visual Revenue, which was acquired by Outbrain earlier this month and allows Tweney to adjust positioning of stories on the homepage based on realtime analytics.
For more on VentureBeat or, if you're looking to better understand how your brands can thrive in a converged media landscape, register now for FOLIO: and min's MediaMashup event on April 16 in New York, where VentureBeat founder Matt Marshall will be a featured keynote speaker. 
 
Meet the Author
---