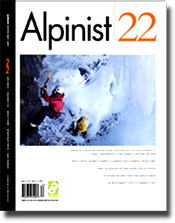 Alpinist, a 9,000-circulation quarterly about alpine-style mountain climbing which ceased publication in October, has been sold. According to a source, the six-year-old, high-gloss, high production-value magazine with a small but passionate community of climbers, was sold via a "live phone auction" for—wait for it—$71,000.
The buyer is Height of Land Publications, Vermont-based publisher of Backcountry magazine. The seller, Marc Ewing, had pumped at least $2 million into Alpinist, but failed to bring it to profitability. The magazine launched in 2002.
What Height of Land plans to do with Alpinist remains unclear. In 2007, the company bought a competing title, Couloir, and folded it into Backcountry.
Publisher Jon Howard said the deal has yet to be finalized and would likely close this week.
The Alpinist businesses include the magazine, its Web site (which had about 50,000 unique visitors a month) and the annual Alpinist Film Festival.
That a magazine with a passionate fanbase and multiple (albeit not yet profitable) platforms is sold for less than six figures—and does so over the phone—is scary, and says more about the state of print than many publishers would care to admit.
Sure, it's just a quarterly climbing magazine. But, at least these days, to borrow an old skier vs. snowboarder cliché, it's all the same mountain.