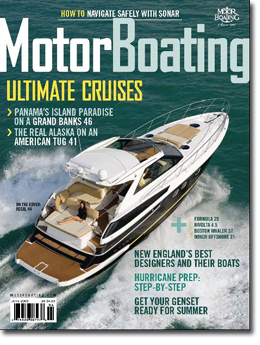 Bonnier's MotorBoating magazine, a part of the Marine Group Network that includes Yachting and SaltWater Sportsman, is folding its print issue. The July/August 2011 installment will be its last.
Current print subscribers will be sent Yachting Magazine or another magazine of their choosing in place of MotorBoating, says group publisher/VP of Bonnier's Marine and Aviation Group Glenn Hughes. Bonnier purchased the boating enthusiast title in 2008.
"Overall, the marine market has taken an incredible hit over the past three years, and that includes all our brands. MotorBoating was probably hit the worst because the 30-60 foot boat market it supported; boat sales have dropped off the table, down 70-80 percent, compared to 2007 vs. 2011," says Hughes.
MotorBoating reported one of the highest percentage increases in consumer ad pages for first half 2011. FOLIO: sister publication min reports ad pages were up for the magazine 67 percent, from January-June 2010's 170.63 pages to January-June 2011's 285.67 pages.
Hughes says it was easy to show this increase, as ad pages were initially so low, "Increase was directed towards brokerage/back of the book advertising through boat dealers and used boat sales. We offered great programs for these guys to participate in, and they did, but it wasn't sustainable for the rest of the magazine."
Instead of completely pulling the MotorBoating title, Bonnier is relaunching the content in a digital form come 2012. Sally Helme, group publisher of Cruising World, Sailing World and Yachting magazines, will be leading the effort, along with Yachting Magazine's editorial director George Sass.
"We're looking at a digital publication that takes down some of the walls in the way the magazine has to be laid out and giving it a different look, whether its on a computer, iPad or smartphone. We're going to focus more on the DIY side of the brand and a section called BoatKeeper. We're hoping to do more of an education process, helping people improve and maintain their boats," says Hughes.
While Hughes says there will be content available for purchase through the iTunes store, the digital edition of MotorBoating will not be limited to the iPad, "We want the format to be available on all forms of media."
MotorBoating currently has 80,000 subscriber and newsstand readers, according to Hughes, as well as 70,000 people on its email lists.