Motor Trend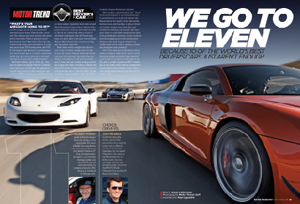 Eddie Winner: Best Digital Edition, Consumer; Best Single Article, Automotive/Enthusiast/Hobbyist
"We don't have print journalists or Web journalists—we have people that work for the Motor Trend brand," says Source Interlink Media's (SIM) chief content officer, and former Motor Trend editor-in-chief, Angus MacKenzie. "Everyone strives to contribute a little piece to make it better and better."
Whether designing for its digital edition, or a single article, MacKenzie says Source's strategy is to include lots of visual imagery and robust, engaging information.
"You can see that in 'We Go to Eleven,'" he says. "We wanted to impart a lot of information in a very concise and engaging way—we work hard on that, to give people a flavor of the story and get a quick sense of what each vehicle is all about, but readers can also dive into all the data points through our diagrams."
MacKenzie says that when Motor Trend approaches any story, the publication tries to do so from a holistic point of view, taking into account the many different mediums currently available to consumers.
"We simultaneously engineer Web pieces, i-mag pieces and video stories," he says. "Our electronic versions don't fall out of the back of the magazine process—it's completely integrated. We look to make sure that each of the platforms that Motor Trend is delivered on has something that plays to the particular strength of a platform."
In looking at "We Go to Eleven," for example, the website version had several integrated videos and YouTube support. Meanwhile, in the magazine, the story covers the same ground but has other information detail through infographics.
Meet the Author
---