Motor Trend and AUTOMOBILE Magazine iPad Editions Free for Print Subscribers

Source Interlink Media digital titles previously priced at $3.99 an issue.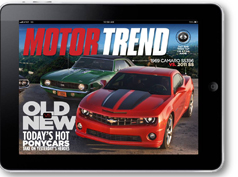 Source Interlink Media has decided to make the iPad editions of its Motor Trend and AUTOMOBILE magazines free for current print subscribers. Previously, SIM had charged $3.99 per digital issue.
In order to access the free editions, subscribers are encouraged to enter the iTunes store and find their chosen magazine's app. Once in the Motor Trend or AUTOMOBILE app, users are able to enter their subscription information to access the digital editions of the mags without cost.
Angus MacKenzie, editor-in-chief of Motor Trend and VP of product and audience strategy with Source Interlink, says this decision was made to grow interest in the digital offerings, as well as to offer a value-add for print consumers, as the digital issues feature additional content.
Additional digital content not found in the print magazines include more news, reviews, photo galleries, integrated video and audio commentary.
In the digital scramble, publishers are updating their practices as they go. Many publishers have decided to opt into Apple's subscriber terms, which were recently quietly updated. Publishers can now include paid or subscription content in their apps without have to include an in-app purchase for that content at the same or lower price.
Some publications, like The New Yorker and Bloomberg Businessweek, are also allowing print subscribers free access to digital editions.
Oke Okaro, global head of consumer mobile business for the Bloomberg Multimedia Group, says this decision was made in order to not monetarily alienate print subscribers, "One of the things that is most important to us is to treat our best customers the best and our best customers are people who subscribe to the [print] magazine today — we wanted to make sure that we don't penalize them for wanting to read the magazine on another device."
Other publishers are opting to completely bypass Apple by creating HTML paths through which readers can access digital editions, as Playboy and the Financial Times have chosen to do.
Meet the Author
---