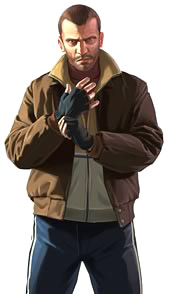 A typically brief and unscientific survey of magazine sites
reveals a range of approaches to online games, from "blah" to spectacular.
Mimicking the success of big game sites like Pogo, many women's magazine sites include a set
of generic, "casual" games—casino games, solitaire, crosswords, word
scrambles, Sudoku, etc. These games are
easily licensed from a number of providers.
Ladies Home Journal (9.5 million
monthly page views) and Reader's Digest (7
million monthly page views) use games as a lure to get visitors to register.
Hearst has taken the concept to the next level, partnering with a
game developer Arkadium to create games
inspired by their magazines' content. In
some cases, the games are not that far removed from their generic versions—Cosmopolitan (35 million monthly page
views) has Make-up Mah Jonngg and Strip Poker.
Other games are a lot more elaborate. Cosmo's "Boy Toy" is an application
where the player guides a virtual boyfriend to fetch cocktails—and avoid a
"skanky ex-girlfriend."
The mother of all magazine site interactive applications is National Geographic's award-winning Your Shot, an
ingenious combination of user-generated content, photo contest and online games. At Your Shot, visitors can upload photos,
compete to have their photos featured in the magazine, and transform photos
into online jigsaw puzzles. According to
news reports, Your Shot alone drives upwards of 14 million page views per
month.
The lesson here is (to paraphrase a publisher I had lunch
with last month), "If you act generic, you are
generic." Good magazine sites start with
the basic idea ("online games drive traffic") and then build on it in a way
that fits and reinforces their brands (in Cosmo's case, sex and boyfriend advice; Nat.
Geo., photography). Doing that
effectively can drive outsized results.
[IMAGE: Rockstar Games; Grand Theft Auto IV]