The Most Expensive Regional Redesign Ever?

New 02138 owners hire George Lois, Luke Hayman for fall relaunch.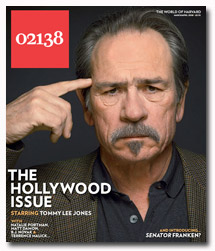 As we reported earlier this week, Manhattan
Media, the community newspaper and magazine publisher that acquired
irreverent Harvard alumni publication 02138 this summer, has hired
legendary Esquire cover designer George Lois and noted Pentagram designer Luke
Hayman to redesign the three-year-old magazine for a relaunch later this year.
The company also named former Maxim group publisher and
Giant magazine founder Jamie Hooper as publisher and CEO, and David Blum as its
editor-in-chief.
It's
not unreasonable to say that this could be the most expensive relaunch for a
city and regional magazine ever. But just how much are they actually spending?
I tried to put that question to Tom Allon, Manhattan Media's CEO, but I gave up
on the phone tag. I e-mailed Hayman—a speaker at the upcoming FOLIO: Show in Chicago
(more info below)—but haven't heard back. I also asked a number of the industry's
designers, most of whom declined to guesstimate.
One
though, famed designer Roger Black, did:
I
bet the number is 120K, 60 each. A workhorse studio like Don Morris's (cf: Bloomberg Markets) might do the
whole thing for 40. I would ask for more, but I didn't get into Harvard. For
any of us, back in 2000 it would have been double.
There you go.
Click
here for more info on the 2008 FOLIO: Show …
Meet the Author
---