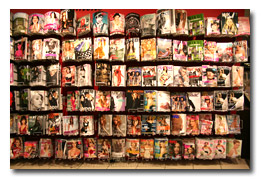 RELATED: Distributor's Threats of Armageddon Leave Publishers Uneasy
Wholesaler pricing demands are beginning to accelerate.
A week after Anderson News announced it would increase its price by 7 cents per copy, Source Interlink said it will be raising its own per-copy distribution rates by 7 cents.
Source's price increase is effective February 1.
Combined, the two wholesalers account for about 50 percent of the magazine market.
In a letter delivered to its publishing partners Tuesday, Source Interlink said it had to increase prices to remain in business. In a New York Post article quoting the letter, Source Interlink Distribution president Alan Tuchman said: "As we continue to aggressively pursue and maintain an effective cost structure within our operation, we've come to the realization that more needs to be done if we are going to overcome the daunting financial challenges that exist."
In a conference call last week announcing Anderson's new pricing structure, Charlie Anderson said all four wholesalers were in a money-losing business.
It is unclear whether Source Interlink issued its price increase announcement with as much force as Anderson, which warned publishers they'd be dropped from distribution if they didn't comply with the new pricing. A Source spokesperson did not immediately return a request seeking comment.
Anderson's announcement also included a plan to shift $70 million in scan-based trading inventory costs to publishers. Source Interlink so far has not asked to transfer SBT costs.
'Ridiculous,' 'Absurd'
John Harrington, publisher of the New Single Copy newsletter, calculated an industry-wide cost of $267 million if seven cents per copy were added to all 3.185 billion copies distributed to retail. Divide that in half, and the one-two punch of Anderson and Source Interlink amounts to an industry cost of $133.5 million.
Jay Annis, VP of single copy sales at Taunton Press, deals with both Anderson and Source. "The attempts by both at extracting a 7-cents-per-copy fee for distribution is unfair for any number of reasons, and the method in how they have gone about it is ridiculous."
Annis said that publishers have already shipped product for early February on-sale dates, and wondered how terms can be changed for titles already en route. He added that a flat 7 cent fee does not account for a variety of factors. "It does not take into consideration the current sell-through, cover price, and discount the publisher is already giving the wholesaler," Annis said. "Why should a title cover-priced at $7.99 and selling 40 percent pay the same distribution fee as a title priced at $3.50 and selling 25 percent? At a 15 percent margin, the wholesaler is making $1.20 a copy sold on the $7.99 title and $.53 per copy sold on the $3.50 title."
Added Annis: "To expect publishers to make the decision of spending hundreds of thousands or millions of dollars at any time is difficult. To ask them to do it in a two-week window is absurd."