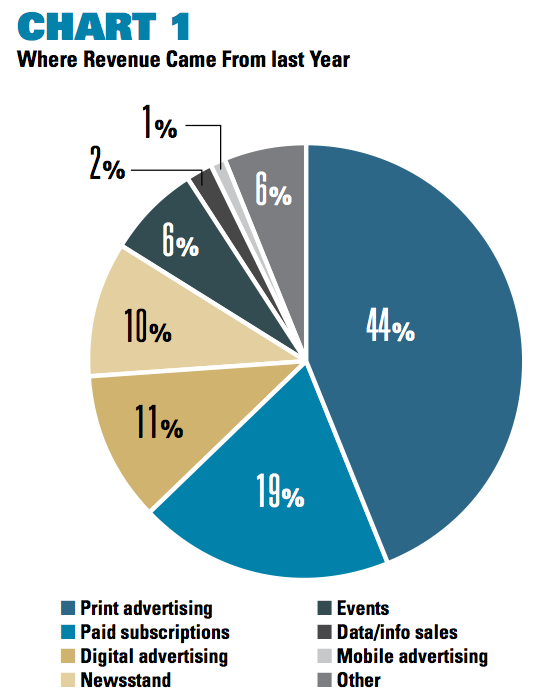 It's not a shocker that print ad revenue has fallen while the pile of dimes from digital advertising has been growing.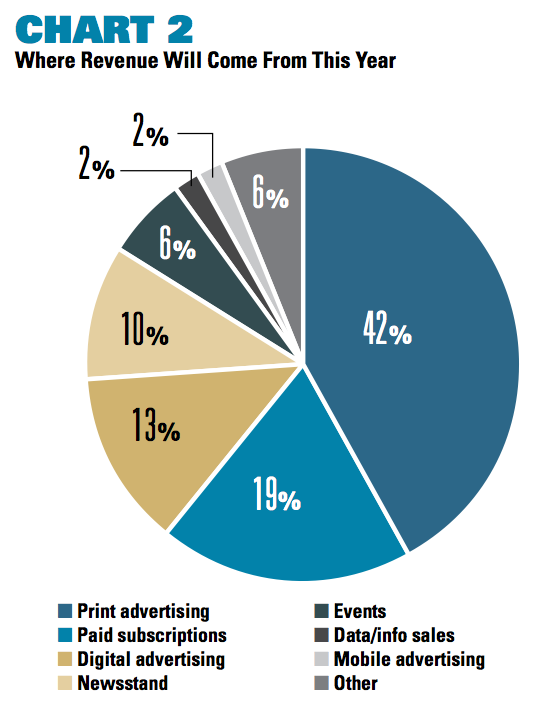 That digital-is-catching-up-to-print narrative is overblown though, or at least premature, according to more than 230 respondents to FOLIO:'s 2014 consumer magazine CEO survey. From a pure revenue perspective, the shifts are almost imperceptible.
For starters, the two are still miles apart. Print advertising accounted for 43.6 percent of all revenue in 2013; digital ads brought in just a quarter of that at 11.3 percent-not far off from where they'd been over the last 5 years. And neither are expected to budge more than 2 percentage points in 2014.
History says even a 2-percent change might be expecting too much. From 2010 to 2013, respondents have consistently overestimated digital earnings and underestimated how much they'd still rely on print. The gap between expectation and reality has been as high as 5.6 percent.
The takeaway? The print-to-digital transition is happening, but not as fast as people think.
MORE, BIGGER PROFITS
Consumer magazines are more profitable than they have been at any point in the last 5 years.
Just 9 percent of respondents say their companies finished in the red for 2013. That's down from 12.6 percent over the last 5 years, and from a high of 18 percent in 2012.
Conversely, more publishers found themselves at the high-end of the spectrum. Eleven percent of respondents had margins of at least 30 percent last year-a third higher than the 5-year average.
Profits were up for those in the middle tiers as well. Average margins hit 14.6 percent-2 percentage points above the 5-year norm-and are expected to climb another point by the end of 2014.
Profitability is still a major hurdle though. In fact, it came up as the most-cited challenge by a quarter of the industry. Second place, business development, wasn't close.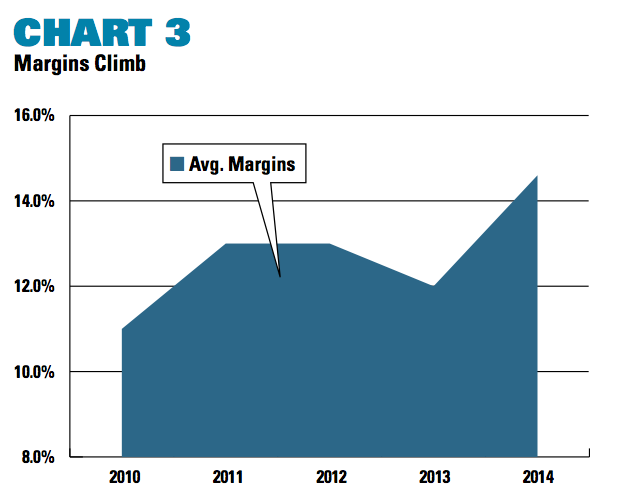 MAGAZINES GET MORE COMPETITIVE
Many feel the magazine market has been ripe for consolidation for a few years now, but it hasn't happened yet. It's actually become more fragmented.
Competition has gotten tougher with more entrants into the market. A fifth of respondents say they have more direct competitors now than they did a year ago-a number that's risen steadily over the last 5 surveys.
And publishers expect the landscape to keep shifting in that direction. More than 20 percent of respondents say they're anticipating the launch of another magazine or other competitive product next year.
Fewer magazines seem to be going out of business,
as well. Just 14 percent of respondents say their environment has gotten less competitive in the last 12 months. That's also trended downward since a third of publishers saw rivals fade in 2010.
There's a notable difference between large and small titles though, even as the industry got more crowded in the aggregate.
Bigger magazines are seeing competition grow at less than half the rate (10 percent) of their smaller counterparts (22 percent). As a result, they've grown market share almost twice as much-48 percent of large publishers increased market share last year, compared to just 26 percent of small publishers.
They're also split on where things will go from here. High-revenue publishers believe significant changes are on the way in the next 12 months. More than half think they'll be impacted by an acquisition of or by another company, while almost as many believe the launch of a competitive product will affect them.
Small publishers stand in contrast, with minorities anticipating an acquisition (11 percent) or competitive startup (33 percent).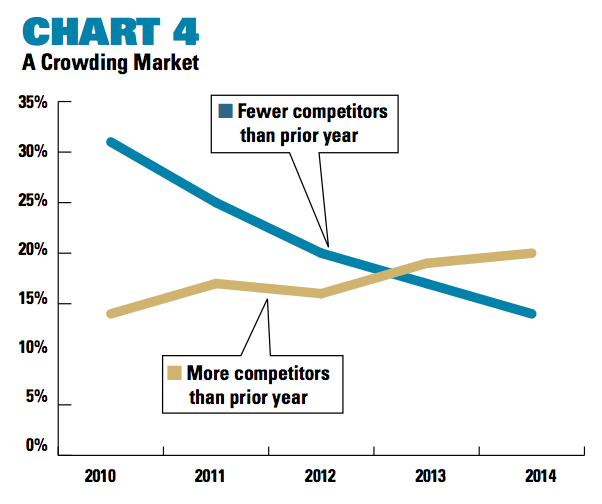 TECH SPENDING DISPARITY
The gap between big and small publishers is at its widest when looking at investments in technology.
The raw revenue figures explain a lot of that disparity when it comes to amounts spent-large magazines put more than $315 million into new tech in 2013, while smaller counterparts averaged less than a tenth of that at just $25 million-but the types of companies investing and where they're spending money are noteworthy.
Nearly a quarter of small publishers didn't spend a dollar on new technology last year. That seems wildly out of touch with audience consumption trends at large, but it makes sense considering their bottom lines-57.4 percent of small publishers' earnings come directly from print products (print ads or the newsstand).
Meanwhile, digital and mobile sources account for less than 13 percent of total revenue. Those breakdowns don't tally paid subscription revenue either, which is primarily print-driven.
Interestingly, large publishers actually see a similar breakdown in revenue between print and digital, but their spending habits differ. That could stem from where they're expecting money to flow from in the future.
More than two-thirds of bigger magazines are anticipating increased digital revenue next year, compared
to just 53 percent for smaller titles. The disparity is even greater in looking at mobile. Close to a third of large publishers think they'll get more money from tablet editions and apps, while just 12 percent of small publishers are taking the same approach.
Differences in areas of investment are also worthy of a closer look. Large companies have moved on from spending on websites and social media-where half of their money was spent just 3 years ago-and into areas like CMS development and video. Smaller companies primarily invest in the former categories.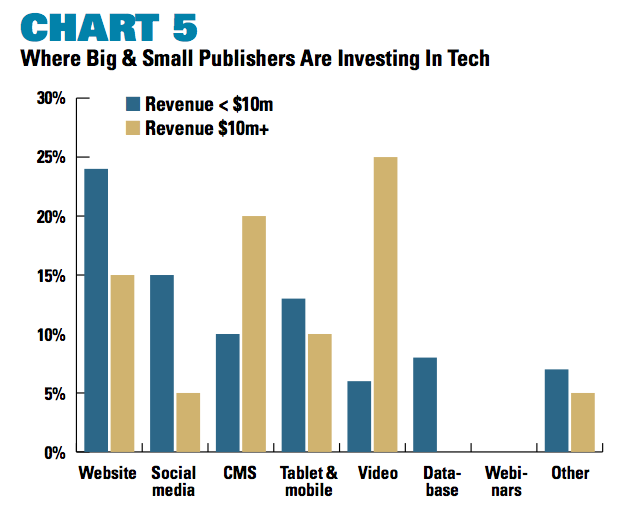 HOW MUCH MOBILE MATTERS
While the survey hadn't asked about mobile advertising as a discrete source of income until this year, companies are betting it's going to rise. Fast. It's still a tiny slice of the revenue pie at just 1.2 percent, but it's expected to jump to 1.9 percent for 2014.
Creating tablet and mobile-friendly content is also among the top priorities for publishers this year, regardless of size.
THE NEWSSTAND IS DOWN…BUT IS IT OUT?
Newsstand performance is expected to decline this year.
Heard that one before?

Respondents haven't been optimistic about single-copy sales over the last 5 years, but they're painting an even dimmer picture for 2014. Close to a third of respondents are forecasting declines, with just 8 percent calling for newsstand sales to go up. Overall, the industry expects an average loss of 2.7 percent. All three of those stats are 5-year lows.
Perhaps most damning, only 4 percent of respondents call the newsstand a priority in 2014.
But despite the trends, the newsstand is still the fourth-largest revenue driver for consumer publishers, accounting for nearly 10 percent of total earnings in 2013-only 1 percentage point less than digital advertising.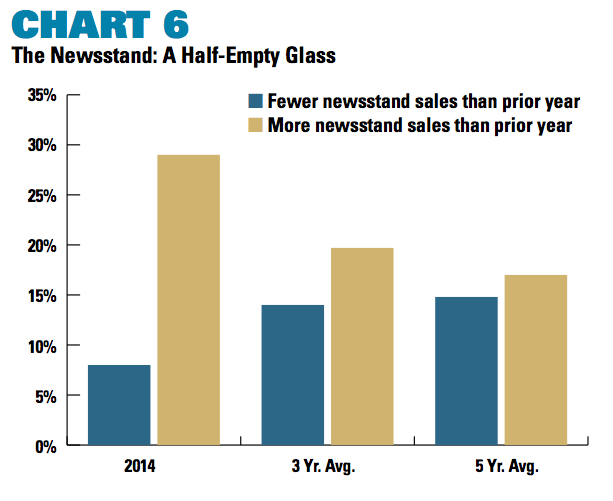 METHODOLOGY
FOLIO: and Readex Research mailed survey kits to 2,037 qualified domestic individuals in executive management positions at consumer publishing organizations on July 1, 2014. The survey was closed for tabulation on August 15, 2014. The margin of error for percentages based on 232 total respondents is +/- 6.1 percentage points at the 95 percent confidence level.