More Rumors Indicating Vice is Worth Billions

A&E Networks is the latest company making a big investment pitch.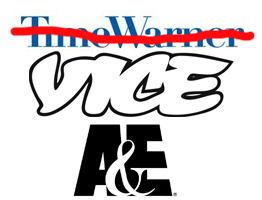 A few months ago, Sky News reported that Time Warner was on the verge of closing an investment deal with Vice Media that would've raised its valuation to somewhere around $2.2 billion. Now, Time Warner is no longer in the picture, but last Friday The Hollywood Reporter reported A&E was poised to make an investment of $250 million for a 10-percent stake.
The math is pretty easy; that brings Vice's valuation up to $2.5 billion.
In August 2013, Rupert Murdoch dumped $70 million into the company, which elevated its valuation to $1.4 billion. Not bad for what was once a free Brooklyn-based "zine." But then again, while its roots in print are still intact, Vice has evolved into much more than a magazine company.
Its Youtube channel has a little less than 5 million subscribers, and Vice News is approaching 1 million. Its other social followings are also in the millions, making it one of the most popular news and information sources for the millennial segment.
Video seems to be Vice's unique selling proposition. Not only has it gotten major funding from Murdoch, but Time Warner and A&E's interest in the company suggests TV is where it's looking to grow.
Vice already has a 30-minute series on HBO, which is a Time Warner company. But when Time Warner was a rumored suitor, there was speculation Vice would absorb and rebrand HLN. A&E may have a slightly different plan in mind for Vice, however Hearst and Disney have major stakes in the network and both have successfully launched their own branded TV channels–most recently with Hearst's Esquire Network.
Meet the Author
---