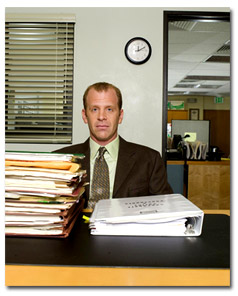 Death and taxes aren't the only things those of us in the magazine world can be sure of anymore. We might as well add magazine layoffs. At least that's been the case for the last couple of years. How many of us read the FOLIO: or mediabistro.com e-newsletters and see one of our former—if not current—employers ditching their publications or shaving off dozens of our former colleagues? It's getting scary to do what we do these days, even more so than after 9/11.
But who are the bearers of not-so-glad tidings to hundreds of hardworking magazine staffers? The HR rep, that's who! For the three seasons of The Office, Toby, the in-house HR rep, was being constantly undermined by the office's clueless leader, Michael, until Toby left to pursue greener pastures. But maybe Michael is on to something.
But, seriously—why should HR people sit in their offices so confidently while the rest of us tremble as we watch our co-workers march to the elevators with their white file boxes full of snow globes, coffee mugs, and Simpsons memorabilia after receiving their pink slips? If companies need to work smarter rather than harder, it's time to send most publishing HR staffs back to where they belong … oh wait, Starbucks is shuttering a lot of its shops, too. That could be a problem.
I am not anti-HR. I minored in it because I thought it was actually interesting. (That might be my problem.)
But the things I've seen some HR reps do that range from simply not smart (like reply-all blunders) to making a multi-million dollar publishing company liable to lawsuits (racism, sexism, fill-in-the-blankism).
So what's the solution, you ask?  Simple: Have one of your mid-level editors who's demonstrated good people skills take over the in-house HR duties. Or have the editors take a larger role managing their writing staffs. Chances are the HR folks make more money than the editors do anyway, so there's your savings right there.
Look, if it comes down to being fired or taking on extra responsibility at little or no extra pay, most editors I know would be fine with that. And they could have that martyr complex we love so much.
There's nothing worse than trying to put out a great magazine and always looking over your shoulder in anticipation of the HR person leaning into your cubicle—scythe in hand—and saying, "Hey, can you come down to my office for a second?"
It's time to bring the era of the power-wielding HR flack to an end. And soon. At least before I decide it's time to get a new job!