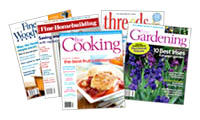 SEE RELATED: Roman's Memo to Staffers
Taunton
Press—the Newtown, Connecticut-based niche publisher of hobbyist magazines
including Fine
Woodworking—has cut nine employees from its workforce, FOLIO: has learned.
"On a
personal level it is difficult but is important to the long-term health of the
company," president and editor-in-chief Sue Roman wrote in an e-mail to FOLIO:
confirming the cuts on Friday. Taunton is also said to have frozen new hires as it adjusts its 2009
fiscal year budget.
The layoffs
come as the company tries to navigate the downturned economy—which has hit the homebuilding
market particularly hard.
"As
our business needs change we need to trim from various parts of the business at
the same time that we're growing in other areas," Roman wrote, "namely online
and advertising sales." The company employs 300 people.
Taunton
merely is the latest publishing company to cut staff in recent weeks. Penton Media, Reed Business Information and Meredith have all
announced job cuts since the beginning of June.